Topman is rolling out a digital personal shopping service to give customers who cannot attend its flagship store access to the service.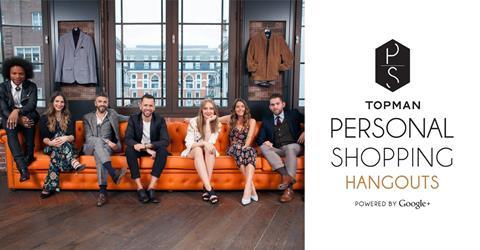 Topman runs the personal shopping sessions in its flagship Oxford Street store and is now also providing the sessions to customers via Google+'s Hangout video conferencing technology.
Customers are able to request specific styles of clothes they would like to try before their Google Hangout session and a personal shopper will then pick out a selection of clothes.
Users can book a one-on-one video-chat personal shopping session on a microsite and are able to purchase the items directly from the Hangout session.
Topman marketing director Jason Griffiths said: "Through a few simple clicks you will be able to book and experience a one-on-one online appointment with one of our expert personal shoppers no matter where you are.
"To be the first fashion brand to offer this service further demonstrates Topman's credentials as being at the forefront of all things innovative in the fashion world."
In order to drive awareness of the service, TV presenter Nick Grimshaw will host a live broadcast Hangout with the personal shopping team today (October 1) at 6pm.
Prizes will be on offer during the session, which is due to be broadcasted on the Topman website and promoted via a #PSGrimmy hashtag on social media.
Topman is poised to launch the digital personal shopping experience to customers all over the world following the UK trial.