TK Maxx owner TJX has posted rising sales and profits over its full year as the US retailer "gains market share around the world".
In TJX's international business – which largely comprises the UK – adjusted segment profit for the year to January 30 was up 3% to $335m (£240m), excluding the impact of foreign currency exchange. However adjusted segment profit for the fourth quarter was down 5% to $120m (£86m).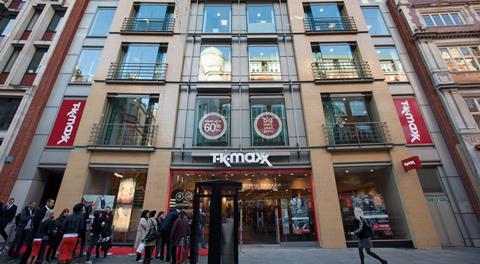 The retailer said that profit had been negatively affected over both periods by investment in Australia, Austria and the Netherlands, where TJX debuted stores in the year.
TJX posted 4% like-for-like growth over the full year, up from 3% the previous year, across its international arm. However like-for-like growth slowed to 1% in the fourth quarter of 2015/2016.
Total sales were up 13% in the overseas division both for the full year and the fourth quarter. Full-year sales stood at $4.64bn (£3.32bn) while fourth-quarter revenue reached $1.36bn (£97.3m).
The UK is the largest international market by far for TJX. Of the 530 stores it operates outside the US, it has 328 UK TK Maxx stores as well as 39 Home Sense stores.
In its home market of the US, like-for-likes were up 5% for the full year and 6% for the fourth quarter.
Looking ahead
TJX chief executive and president Ernie Herrman said: "We are convinced that we are gaining market share profitably around the world. We have sustained profitable growth through many types of economic and retail climates and in different regions around the world, and we have great confidence in the future.
"We plan to continue to balance our growth with investments, develop new seeds for growth, and strengthen our leadership positions across the globe. We now operate in nine countries, across three continents, and are excited about the opportunities we see both in our existing regions and new international markets."
Conlumino chief executive Neil Saunders said: "If they show anything, today's results from TJX indicate that the company successfully overcame the various obstacles to growth that tripped up so many other retailers during the holiday period.
"TJX gives customers a reason to visit stores in a way that so many others don't. The changing assortment, the excitement of finding a bargain, and the urgency associated with having to secure a product"

Neil Saunders, Conlumino
"This impressive performance was achieved in spite of some headwinds that could well have blown TJX off course.
"Foremost among these was the warmer weather which softened demand for apparel.
"One of the reasons that TJX appeared to be somewhat immune to this is the nature of its offer, which is focused as much on wants as it is on needs.
"TJX gives customers a reason to visit stores in a way that so many other players don't. The constantly changing assortment, the excitement of finding a bargain, and the sense of urgency associated with having to secure a product before it is sold out, all give consumers a reason to regularly visit shops."