Ted Baker is renowned throughout the retail industry for its unique culture. But is the behaviour of its founder and boss Ray Kelvin appropriate in 2018?
An online petition alleging that Ted Baker CEO Ray Kelvin behaves inappropriately towards both female and male staff has blown the lid off whispers that have circulated for some time.
Retail Week put those claims to Kelvin in the summer.
Because of legal constraints – the sources' understandable fears that their anonymity would be compromised versus the conflicting need for Retail Week to justify the story in court if necessary – we felt unable to publish this part of our interview with Kelvin at that time.
'Good old-fashioned stuff'

Ted Baker has long been known for its distinct way of doing things. Compared to many head offices with white walls, grey carpets and corporate buzzwords droning above the heads of disengaged employees, putting a boot – or brogue – into conventional workplace culture feels like a good thing. But allegations of Kelvin's behaviour crossing a line are another matter.
The business has replied to such claims, saying: "Ted Baker has always placed great importance on the company's culture and owes everything to the commitment of our people. It is critically important to us that every member of our staff feels valued and respected at work.
"Ray greets many people he meets with a hug, be it a shareholder, investor, supplier, partner, customer or colleague. Hugs have become part of Ted Baker's culture, but are absolutely not insisted upon.
"Having very recently been made aware of the petition, we are now in dialogue with Organise to understand the details and nature of the claims."
Ted Baker added that it had "very clear and robust" HR policies in place and said the claims – which have been made by both men and women – were "entirely at odds with the values of our business and those of our CEO". An independent investigation has been launched.
When I met Kelvin in the summer, we were sitting below deck on the business' barge, moored on Regent's Canal, which runs behind Ted's Kings Cross headquarters. After chatting over a cup of tea about the business' performance since Kelvin founded it in 1988, the conversation turned to Ted's hugging culture.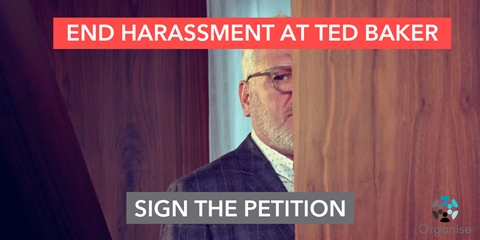 It's well known that Kelvin is 'a hugger' and he makes no bones about that, nor about the press-ups he makes people do if they are late for a meeting.
He said he hugs because his chronic psoriatic arthritis means he is unable to shake hands anymore.
"Shaking hands is really, really painful," he said. "I switched to hugs and that is what it has come out of. It breaks barriers and it is a nice thing to do.
"I try to build a family. Everyone gets a hug. It's a positive connection. I have only ever had one person refrain from hugging me – it was a man and he didn't work here."
However, Retail Week had heard multiple accounts of hugging turning into something else, with women in the team being asked to sit on Kelvin's knee or of a hand around the waist allegedly drifting downwards.
He took umbrage at the suggestion that women had felt coerced.
"If they are happy to sit on my knee…" he said before trailing off.
"What was acceptable in my life – and this is very important – stays with me," he continued. "My father had lots of people sit on his knee because it was a friendly thing to do when I grew up.
"You can't expect my life to change because today people are particular about certain things that we grew up quite naturally with. Eric and Ernie went to bed together every single night and no one thought anything of it. That was proper, good old-fashioned stuff. Plenty of people might have sat on Ted Baker's knee."
#MeToo
I asked whether he believed that his team feel they can object to the overtly physical nature of head office culture.
"I don't know," he said. "We just do it. I don't know if I ask them enough? If I asked them, would they say [anything] anyway? They probably wouldn't want to be negative to me.
"But we retain people. They're sitting up there on the barge." He indicated towards the upper deck where a group of women were having a meeting. "It's not bad, is it? We have ice cream, nails done at your desk, massages, finishing early on Fridays in the summer."
The perks sound nice, I conceded. But Retail Week had not heard complaints about at-desk manicures or hugging, we had heard accounts of being coerced into sitting on Kelvin's knee.
I quoted one source who signed off emails with "#MeToo" and alleged that "life can be made very difficult if you challenge what is considered the norm". I asked Kelvin if he thought that made for a desirable culture at a listed business in 2018. Ted Baker's share price plummeted 14.5% today as multiple media outlets reported on the petition.
On the barge, Kelvin suddenly stopped talking about ice cream and Morecambe & Wise.
"If I had known this conversation would have taken place, I wouldn't have had this conversation, because I don't have to explain myself," he said in a low voice.
"You should have more respect. If you damage this business by writing anything like that, and external money that is involved in this business, you are on very dangerous ground.
"Now you know why I don't speak a lot to the press. They are always looking for a negative story. You must look at the positives of this business. We have built this business from zero to hero. We have built a British business. Do you work for a British company?
"You should have more respect than to bring something like that, which somebody may have had an issue with. Or two people. Or none. I am quite sure those people are no longer in the business.
"To bring that up now when so much has been achieved and so many wonderful things have been achieved is very upsetting. You have now tarnished something that could have been very positive. I don't think that is acceptable."
He looked around for his PR officer and added: "I think it's the end of the meeting."
Unapologetic
As it turned out, it was not the end of the meeting. As we walked off the boat and up the stairs to head office, Kelvin decided to take me on a tour of the office.
Passing from open plan space to open plan space, he strode over to various female team members, hugging them close and asking them if they minded his embrace. They all said they did not.
After this encounter had been replicated around 10 times, he raised his voice to tell the biggest open plan space: "There's a member of the press here, asking questions about our culture." Bemused faces peered back at us and Kelvin made his way to a set of double doors, which lead to the stairs.
We all stood in the concrete stairwell – Kelvin and I, his brand director Craig Smith, two members of Ted Baker's corporate PR agency and a couple of Ted staff, who had been unwittingly caught in the middle on their way back to their desks.
"Come here," he said to me, pulling me into a hug and planting a kiss on my cheek. "I am not apologising for this." With that, he turned on his heel and disappeared back into Tedquarters.