Ted Baker pre-tax profit excluding exceptionals surged 26.7% to £40m in its full year as it grew its global store estate.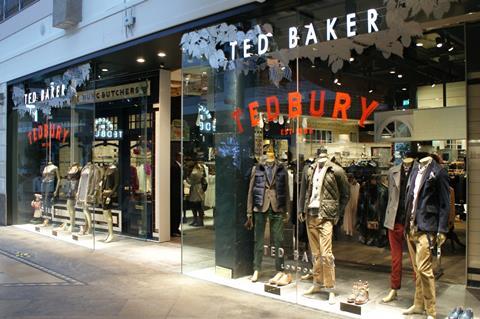 For the year to January 25 the fashion brand's revenue soared 26.5% to £321.9m.
Ted Baker said retail sales jumped 24.6% to £259.1m. That comprised a 20.3% sales increase across the UK and Europe to £198.6m, a 38.1% rise in the US and Canada to £50.7m and a 55.7% surge in online sales to £23.2m.
Wholesale sales surged 35% in the year to £62.8m and licence income was up 18.4% to £8.9m.
Ted Baker exceptional costs totalled £1m relating to store costs.
In the year Ted Baker opened its Gatwick South store, its first stores in Turkey and further concessions in Spain, France, Germany, the Netherlands and the US. A key focus has been Asia, where Ted Baker opened two more stores and concessions in Shanghai and its first concession in Tokyo. It also opened another store in Adelaide, Australia.
Ted Baker plans to open a store in Marseille in May and an outlet store in Paris in March.
Ted Baker chairman David Bernstein said the fashion retailer has started the new financial year "well".
"We are encouraged by the reaction to our Spring/Summer collections," he added.
He said Ted Baker plans to open stores in Glasgow and Heathrow Terminal Two and relocate its outlet store in York.
Ecommerce improvement
Ted Baker will also improve its ecommerce service after relaunching it in November last year. Bernstein said it will be more relevant to the customer experience and drive country-specific localised content. It will also migrate its US site to the new UK platform this year.
Ted Baker founder and chief executive Ray Kelvin said: "This has been another excellent year during which we have continued to build Ted Baker as a global lifestyle brand. We have further developed our presence internationally and invested in markets where we see long-term growth opportunities whilst remaining unwavering in our focus on quality, design and attention to detail that underpins everything we do.
"We have continued to invest in the business to support our growth, including the successful launch in November of our new ecommerce platform that provides opportunities for future growth and multichannel developments."