Uniqlo will welcome shoppers to its newest London store in Covent Garden from tomorrow.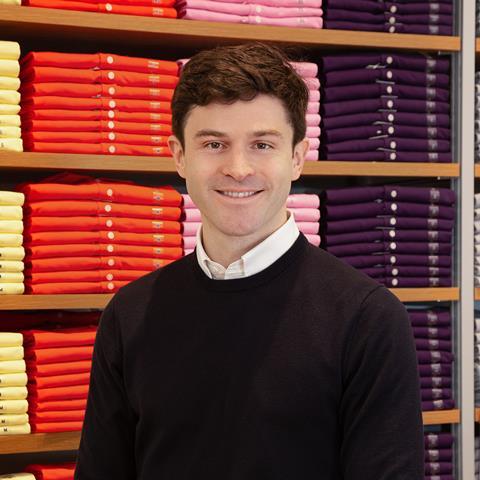 Chief operating officer for Uniqlo in Europe Alessandro Dudech said the store aims to "elevate" the shopping experience.
Speaking to Retail Week during a tour of the 15,000 sq ft store, Dudech said Covent Garden is a more relevant location for the brand than other parts of London.
"With this store, we really wanted to dial up the experience. Covent Garden is a very special area because there is the arts, the theatres – it is a destination compared to other parts of London," he said.
"We wanted to create another moment in [the shopper's] day where they can come and experience little bits that really elevate their experience."
The store, which brings Uniqlo's total UK store estate to 17, offers shoppers a range of womenswear, menswear and accessories over three "expansive floors".
Uniqlo has also partnered with London-based Japanese tearoom Katsute 100 to house its first in-store tearoom.
Dudech said: "The reason for us choosing a coffee partner and also partnering with Transport for London (TFL) is really because we want other brands to tell the lifewear story, to reinterpret what life means from the customer's own eyes, which is why we really saw this blend of partners as a way to make it more relevant for local Londoners.
"In a nutshell, we really want people to fully experience life in this store."
Formerly a Victorian carriage hall, the Grade II-listed building also features a courtyard and vaulted glass atrium "focused on experience-led features" for customers.
The fashion retailer also partnered with London-based florist JamJar Flowers on an in-store pop-up, offering its products to Uniqlo shoppers in the courtyard section of the new store.
Speaking of the importance of the in-store experience for Uniqlo shoppers, Dudech said: "I think the shopfloor is the beating heart of the company because that's really where the brand proposition comes to life.
"It's also a good opportunity to really showcase what we're doing to help from an environmental perspective; it is a showcase of everything the brand stands for.
"As it comes to life, customers can really engage with it in a much deeper way. Of course, nothing can beat the convenience of a phone. Ecommerce is going to become an ever-increasing, important part of our value proposition.
"We see store and ecommerce as being complementary, so we will continue to open stores because again that's really where we meet our customers and we engage with them directly."
The store also has a Re.Uniqlo repair studio where customers can "recycle, repair or remake their favourite Uniqlo items so they can keep wearing and loving them for longer", including via the use of the traditional Japanese stitching technique sashiko, which Uniqlo calls "functional and decorative".
"In Uniqlo, what we are really trying to achieve is full-circle and making sure that you never have to get rid of an item. We call it emotional longevity; it's something you connect to a product.
"In that sense, we really feel that Re.Uniqlo is an integral part of our value proposition and that's why, by the end of this year, we are going to have it in every UK store," said Dudech.
With the store offering TFL-branded products and Uniqlo's bespoke T-shirt service UTme!, Dudech said products have been tailored towards the London market.
Dudech also acknowledged the importance of local shoppers in Covent Garden: "In this particular store, we have dedicated specific areas for smart attire because we've got a lot of offices around here. So the smart corner is slightly more visible in this store than it would be in other stores – we want to make sure that we offer a line-up and a product layout that really connects with our local customers.
"In this case, TFL and the London Transport Museum are around 100 metres away and I really feel that is what sets us apart compared with other companies."
Looking forward, Dudech says that Uniqlo is trying to bring something different to every new store, with a focus on individuality and value, which its Covent Garden location has certainly embodied.
Get the latest stores news and analysis straight to your inbox – sign up for our weekly newsletter