Sports Direct underlying pre-tax profit surged 20.5% to £300.3m in its full year to April 2 but it has cut its bonus scheme EBITDA target.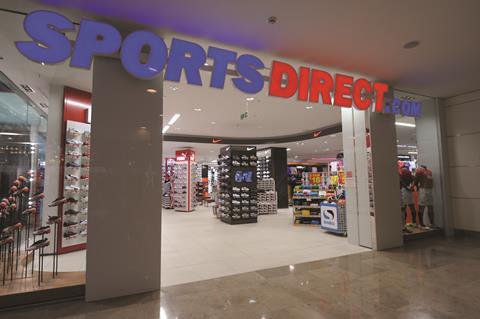 Profits up but cuts FY16 adjusted underlying EBITDA target from £480m to £420m
Defends use of zero-hours contracts
Sports division performs strongly but sales fall in premium arm
Group underlying EBITDA increased 15.7% to £383.2m in the year to April 2.
However, Sports Direct has revised down its FY16 adjusted underlying EBITDA target, which dictates its staff bonus scheme, from £480m to £420m after "planned acquisitions in full-year 2015 did not fully materialise". The board is recommending shareholders approve the revised figure and regards the initial figure as "unreasonably challenging".
Group sales in the year increased 4.7% to £2.83bn. In sports retail, revenue advanced 5.5% to £2.4bn, but its premium lifestyle arm suffered a 3% sales fall to £208m largely due to the closure of loss-making stores in the period.
Sports Direct has come under fire with regards to its use of controversial zero-hours contracts.
But the retailer today maintained: "Much of the comment regarding the group's use of zero-hours contracts has been unfounded and inaccurate. We comply fully with all legal requirements which relate to casual workers, including sick pay, holiday pay, and freedom to gain other employment. Casual workers also participate in general incentive schemes."
Sports Retail gross margin increased by 170 bps to 44.6% while like-for-likes in stores were up by 7.4%, a slow down on the previous year's 10.5% rise.
Online results
Online revenue was up 14.4% to £383.8m "driven largely by the successful launch of click-and-collect" in the UK in the second half, which now accounts for more than 20% of UK online orders. "This performance is exceptional considering we charge £4.99 for this service," Sports Direct said.
Online sales represented 16.5% of sports retail sales.
Sports Direct said trading since the year end "has been in line with management's expectations". It said it "continues to benefit from a number of factors including investment in product range and availability, with an increased emphasis on 'better' and 'best' group branded products and the optimisation of our in-store and web offer, enhanced by the introduction of click-and-collect in the UK".
It operates 440 UK stores and 221 overseas. It plans to open between 30 and 40 stores in its current year, about 30% of which are expected to be relocations. The retailer also operates 27 gyms across England.
Challenging conditions
Sports Direct chief executive Dave Forsey said: "The group has delivered another solid set of results in spite of challenging trading conditions including the adverse impact on performance during the period of England's early departure from the FIFA World Cup in Brazil and unseasonably mild weather during autumn, reducing footfall.
"However, with our ongoing focus on providing customers with exceptional quality and unbeatable value, we have continued to grow group revenues and EBITDA and have succeeded in surpassing our fourth and final EBITDA target under the 2011 Share Scheme.
"The first of these awards will vest with participants in September 2015 and the second in September 2017. We owe our continued success to the commitment and hard work of those participants and we are delighted that we are able to reward them in this way."
The retailer is building a new warehouse facility to drive expansion and also a new training centre at Shirebrook.
In the year Sports Direct upped its stake in Debenhams from 6.6% to 15%, but since year-end has cut that to 10.5%. It is testing four concessions within Debenhams stores at present, as well as some Tesco stores.