Department store Selfridges is to open a drive-thru click-and-collect service at its London flagship as it gears up to launch overseas delivery.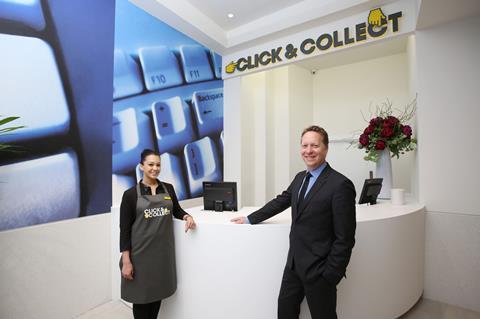 The retailer will convert forecourt space off the side of its Oxford Street store so that customers can collect products ordered online without having to leave their cars.
The service will launch early next year and, while Selfridges multichannel director Simon Forster said the details are being ironed out, he added: "It's a great opportunity for us."
Selfridges launched its in-store click-and-collect service at Oxford Street this week and will roll it out to its three remaining stores on May 9.
Forster, who joined from Debenhams late last year, said orders made online before 4pm will be available for collection as soon as the store opens the next day.
The service allows shoppers to pick which day, within seven days of ordering, they would like to collect their orders on.
The London store will offer 30 minutes of free parking for shoppers collecting orders and the collection point in London has direct access to the car park.
Forster said: "We wanted to launch the best in class click-and-collect service."
Selfridges is also launching international delivery of online orders to 54 countries, starting with Europe in August and eventually rolling out to other territories including China.
Forster said that despite the fact it does not deliver overseas at present, one in five visitors to its website are from outside the UK. Overseas shoppers account for a quarter of sales made at its London store.
In June, the retailer is launching an improved home delivery service, which will give couriers the ability to text customers and arrange delivery times.
He said the focus for Selfridges' multichannel offer is to extend its strong customer service to the online channel and added he expects click-and-collect orders to make up at least 25% of online orders.
Selfridges aims to increase online sales to around 20% of total sales over the next three to five years. "We would want click-and-collect sales to be as high as possible, because it's giving the customer convenience and allows them to engage with the store," Forster said.
Once this year's plans are complete, Forster said the focus will shift to bringing online into the store with technology such as mobile devices and in-store kiosks.
Shoppers will also be allowed to try fashion and accessories on before deciding whether or not they want to complete their order and take them away. There will also be iPads at collection points to allow shoppers to continue browsing online.