Marble Arch and other UK landmarks get FCUKed, retail stars light up an M&S reunion and the Sainsbury's customer with a spring in her step.
Marble Arch gets FCUKed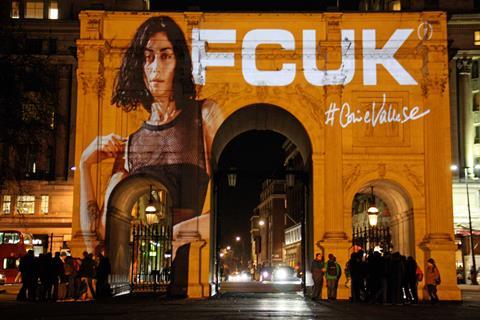 Fashion retailer and brand French Connection has toured the country to pay homage to its FCUK logo by lighting up some of the UK's most recognisable landmarks with the infamous four letters.
The guerilla initiative began with a projection of the firm's spring/summer advertising campaign across Marble Arch in London.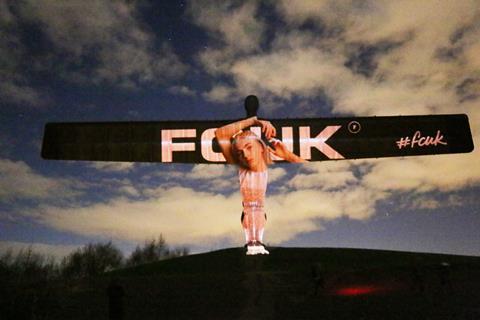 It has since projected against more than 80 famous sites and landmarks across the UK including the Angel of the North in Newcastle, Manchester's Northern Quarter and the Armadillo in Glasgow.
With French Connection's full-year results set to be unveiled later this month, let's hope its financial projections are equally as bright.
Galaxy of stars light up M&S reunion
A galaxy of retail stars turned up for a Marks & Spencer reunion organised by headhunter Barracuda. Guests spanned the eras and included Andrew Stone, Kate Bostock, Luc Vandevelde, Roger Holmes, Beth Butterwick, Maurice Helfgott, George Davies and many more.
The bash was held at House of Fraser's offices at 27 Baker Street, an address formerly associated with M&S.
House of Fraser chief executive Nigel Oddy, himself a former M&S man, joked that many of those attending might remember "bollockings – I mean development conversations" there.
These days the hairdryer treatment is very rare in retail of course…
Sainsbury's shopper's unwanted spring arrival
Dodgy product substitutions can be one of the biggest bugbears of online grocery shoppers – and one Sainsbury's customer's latest delivery threw up one of the more unusual product swaps we've seen.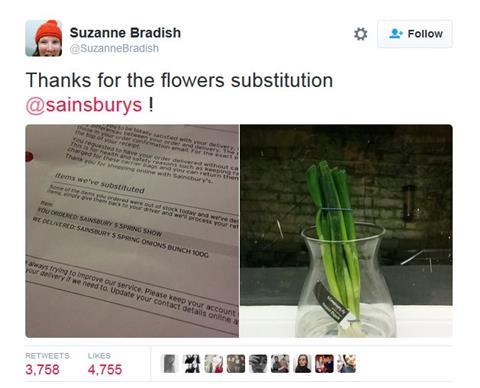 Having ordered spring show flowers from the supermarket giant's ecommerce site, Suzanne Bradish received a far less decorative option to give pride of place in her living room – spring onions.
Suzanne took to Twitter to post a comical image of the vegetables in a glass vase and it soon went viral, as thousands of users retweeted the picture. Days later she posted another picture revealing a vase full of flowers under the caption "You shouldn't have Sainsbury's!" Blooming marvellous.