Retail Week spoke to Vinted marketplace chief executive Adam Jay about the platform's expansion plans, resale market challenges, the importance of having no selling fees and how second-hand fashion will shape the future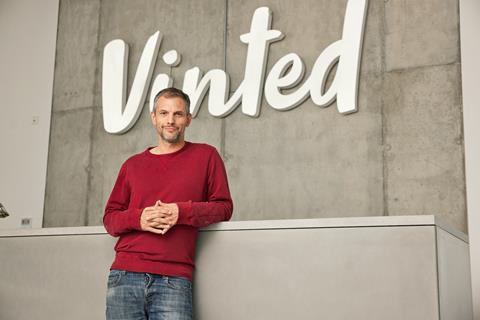 Lithuanian online marketplace Vinted was first founded in 2008 and now operates in 16 European markets as well as the US and Canada.
Vinted recently published an independently conducted survey by Vaayu of 350,000 Vinted members to evaluate the emissions saved during half a billion transactions, which concluded that "more than one-third of Vinted orders prevented the purchase of a new item".
Jay told Retail Week he is "really excited" about the business and its movement to giving fashion a longer life.
What opportunities are you eyeing up for Vinted?
"We remain laser-focused on the fashion vertical, we think we are only at the beginning of that journey to make second-hand fashion first choice and that is what we want to do, that is what we need to do.
"That is about appealing and being interesting to more and more people, to sell on our platform, to buy through our platform, it is about making sure people have an amazing experience when they do use our platform and if things go wrong to make sure we help to put them right in the best way we can.
"Continuing to develop our proposition for higher-value items is another area where we feel we can have a much stronger proposition than we have today. Our members are asking us to help them buy and sell products at a much more premium price point.
"Continued geographic expansion is a big part of how Vinted is going to grow, the bigger the pool of liquidity and inventory that we have being bought and sold, the healthier the platform for both sellers and buyers.
"We've been in the UK for quite a few years, but we really started pushing at the beginning of 2021 and we've come a very long way. We've gone from about 1 million registered users to over 8 million in the last two years, so we are doing something right, but we need to keep going.
"France remains considerably our biggest market and continues to be very healthy in terms of engagement and growth. We are always plotting and our focus is very much on Europe. If you were to plot where Vinted is today, you can see some gaps and those might be things that we are thinking about for the future."
What are some of the challenges you face in the second-hand fashion market?
"The biggest challenge for resale is it is still a relatively small part of the overall fashion marketplace and the number of items that are traded each year. We guestimate globally that only about 20% of fashion trades are resale trades, and ultimately we want that number to be more than half.
"We truly do want second-hand to be the first choice and we think that is an achievable ambition in the long term, but it will take time. It takes time to really educate both buyers and sellers on the benefits of second-hand and that it can actually be quite an enjoyable experience.
"In terms of the cost-of-living crisis, we don't know exactly how our business evolves relative to the ups and downs of the economy, but what we do know is that our business was performing very well before this recent crisis kicked in and is continuing to perform very well.
"My common sense would suggest that people still want to buy stuff, and we sell great value stuff, so that is probably good for the resale market. Likewise, people maybe don't have so many pounds in their pocket and we can help get them a few more pounds in their pocket, so that helps us."
You have no seller fees on Vinted. How important is that?
"What we know is that the lower the fees, the more successful the Vinted marketplace will be.
"We decided a long time ago to have no seller fees, so the seller gets 100% of the money they earn. It costs nothing to register to use the site and we have a really slick, integrated payment and shipping offering.
"It is a platform for everyone, everywhere, all of the time, which is what we are really aiming at."
How are your sustainability efforts impacting the environment?
"Overwhelmingly, the biggest positive impact that we as Vinted can have on this planet is by being successful in our core mission.
"In our Vaayu study recently we shared that for every average second-hand item that is sold, there is 1.8kg of avoided emissions of CO2.
"The statistic that I most like from that report is that for every 2.56 purchases that happen through Vinted, that means a new product was not purchased, which eventually means that product will not be produced in the first place – and as we know fashion is one of the most polluting industries globally, so that is a huge impact."