Fashion guru Touker Suleyman lifts the lid on joining Dragons' Den and turning around his brands Ghost and Hawes & Curtis.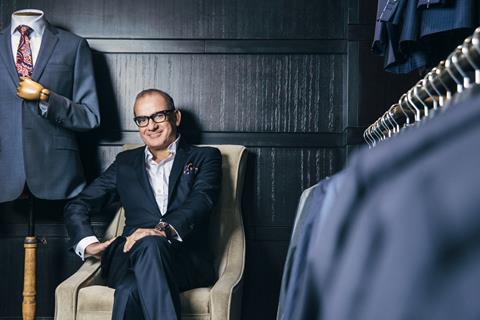 After 40 years in the fashion industry and investor world, Suleyman is one of the three new panellists on the latest series of Dragon's Den, which will air in July.
He is the boss of fashion manufacturer Low Profile Holdings, which supplies clothes to M&S, and he owns the brands Hawes & Curtis and Ghost, both of which he rescued. He spent £1 buying shirt retailer Hawes & Curtis and its shop on Jermyn Street in 2001, which at the time had a turnover of £300,000. The retailer now has 28 stores and a turnover of over £21m.
In 2008 Suleyman bought the fashion brand Ghost out of administration. He and his brother recently relaunched the brand taking it back to its roots.
Retail Week sits down with Suleyman in his London offices to chat about rebranding Ghost, the future of Hawes & Curtis, his investments and Dragons' Den.
Tell us about your journey with Hawes & Curtis
My manufacturing business Low Profile was supplying Ralph Lauren across Europe with shirts before they moved their supply to the Far East. That gave me a passion for shirts and when the opportunity came about I bought Hawes & Curtis for a pound.
We're now going through a process of turning it into a lifestyle brand, selling suits, jackets, chinos, shorts, swimming trunks, boat shoes – they're great quality and great prices, probably a bit younger than our traditional competitor.
How have you re-launched Ghost?
I've returned the brand to its old DNA and brought it back to its former glory as a British icon brand.
All products are garment dyed, and that's the DNA of Ghost and how it started, every garment that you dye feels beautiful and machine washable. Even though it looks like silk, it's viscose.
Ghost used to be an older woman's brand, but now we're seeing young 20s wear it [and celebrities like Lana Del Rey]. We have a couple of standalone stores, and we're online, but we're now wholesale and going international.
What is it like being a Dragon in the Den?
One episode has been filmed and we start filming for a month this week to do a total of five episodes to be aired in July. I'm not the hardball, but I'm direct and very straight.
I have found one exciting thing so far, but there are 125 more pitches to go, so I think there will be a few more. You never know what's going to come through that door, or what they're going to come in with – and you've got to make a decision there and then.
Tell us about your start-up investments
Most of the start-ups I'm investing in at the moment, they come to the office here and their rates are taken care of. One I'm backing is called Docks Rio – their accounts, IT, rents, rates are all taken care of, which gives the brand a chance to grow without all the big overheads.
I'm also investing in Huxley & Cox, a luxury bag brand that was created in-house. As well as other investments including Bike Soup, which is an online bike market like eBay. There are a few more in the pipeline that will come through in the next few weeks.
What's the state of the UK luxury fashion market at the moment?
We've got some great brands, but it is challenging. Look at a brand like Mulberry. A good English brand, it took them a while to find their niche, they did very well, then they overpriced, and now they have to re-price, it's very difficult.
And you've got the big 10 French or Italian brands dominating the luxury market. And you've got big markets in Asia where customers all want Chanel or Louis Vuitton. That doesn't look like that's going to change any time soon.
What's the most surprising thing you've seen in the fashion world?
Fashion is evolving and changing rapidly and that surprises me. I believe people are mixing fashion – you'll buy from Zara, Topshop or wherever and you'll mix it, and you'll probably want to buy a good bag or pair of shoes and that's how it works.
I think consumers are money conscious, and I think with Primark, New Look, Zara all coming on the scene, it gives people a choice to mix. You used to get people 15 years ago who would be top to bottom Gucci, and now she'll have a Gucci bag, but a Zara trouser.