Group revenue for Q3 up by 38% to £372m
UK Q3 sales jumped by 50.5% to £59.5m
Concept store network revenue up by 49.3% to £225m
Adding more than one concept store a day in 2015
Jewellery retailer Pandora saw sales jump 38% over the third quarter of 2015 thanks to its ecommerce offer and store expansion strategy.
The Danish jeweller reported group revenue of DKK3.911m (£372m) with profit before tax reaching DKK1,304 (£124m) compared with DKK906 (86.2m) for the same period last year.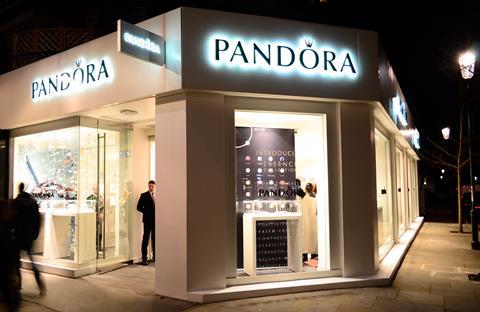 Sales remained strong outside of the US, with Europe increasing revenue by 40.7% to DKK1,879 (£178.2m) and Asia-Pacific reporting sales growth of 74.8% to DKK395 (£37.4m).
Revenue in the US grew by 26% to DKK1,057 (£100.2m) but was "negatively impacted" by a change in marketing strategy to focus on its range of charms rather than bracelets.
Chief executive Anders Colding Friis said: "The strong top-line development has continued in the third quarter of the year and again all regions contributed to the growth. Europe and Asia-Pacific in particular did well, with both established as well as less developed markets continuing the positive momentum.
"Growth in the US was slightly softer than the previous quarter primarily due to a change in promotion strategy in the region to further enhance our brand."
UK trading
UK revenue jumped by 50.5% to DKK626m (£59.5m) compared with the same quarter last year.
Growth is attributed to a positive sales-out development, the launch of the Pandora Rose collection in the second quarter and the expansion of its store network, including 35 new concept stores since the third quarter of 2014. Pandora has 179 concept stores in the UK.
Pandora's retail strategy is focused on expanding its concept store network, which already includes more than 1,600 shops, and it intends to open 375 in total over 2015, with 112 opened over the third quarter and a total of 256 opened over the first nine months of 2015. This includes 83 owned and operated stores, 38 of which are in China and 29 in Germany.
Revenues from its concept store network rose by 49.3% to DKK2,372 (£225m) and accounted for 60.6% of its total revenue over the quarter. Branded sales rose 40.7% to DKK3,427m (£325.2m).
It also has eStores in 10 countries including the UK, Italy, France, Germany and Australia, which launched in the third quarter. Since the quarter end, it has added ecommerce sites in Brazil, Hong Kong and Japan.
The jeweller's trademark charms continued to drive its revenue with sales up by 35.8% to DKK2,428m (£230.3m) while sales of bracelets were impacted by the decision not to support the category in the US. Sales of rings rose by 79.1% over the quarter after the company placed a greater emphasis on staff training in this area and on in-store promotions.