It often seems as though a new fast-fashion etailer enters the market every week, as ever more bodycon dresses and Instagram influencers pile in.
The rise and rise of Boohoo, the up-and-coming Pretty Little Thing and the boldness of Missguided catch the market's eye whenever they make the slightest move – and that's without taking into account the even younger etailers bidding to catch up with them.
Despite the noise made by the newer upstarts, the sector veteran Asos – which is due to report its preliminaries on Tuesday, October 17 – still puts in an impressive performance.
"There will be naysayers who point to the performance of the other etailers as proof that Asos is beginning to lose its touch"
At its interims back in April, it reported enviable rises in earnings and sales. Pre-tax profit climbed 14%, while group revenue surged 37%.
Its sales increase was spurred on by impressive international growth of 54%, with Asos going against the grain of much of retail and benefitting from the depreciation of the pound.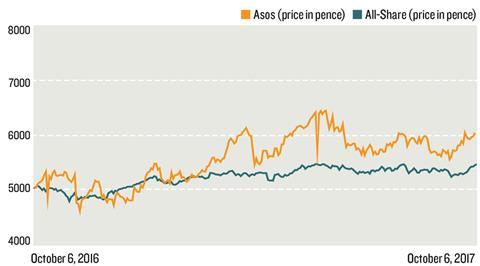 Those stellar figures led to increased sales growth guidance for the current financial year to between 30-35%, although profit expectations remained unchanged.
The market is certainly taking notice of that continued good performance. Asos' share price – which at the time of writing stood at 5,909p – is the highest it's been since 2014, and its all-time high, aside from a brief spell in May of this year.
What's more, full year pre-tax profit is expected to rise 22.5% and sales to jump 33.4% according to broker consensus.
Investment in innovation
Those numbers are affirmed by a number of initiatives Asos is busying itself with at its headquarters.
Cantor Fitzgerald's Mark Photiades, who lists Asos as a Hold, says "the expansion of Eurohub 2 [Asos' second European distribution hub], the push into activewear and beauty and the customer response to new technology such as visual search" are key areas the broker will be looking for progress in.
If category expansion and logistics upgrades weren't enough, Asos is ploughing investment into pioneering technologies.
These include visual search and AI assistants, exploring the application of 3D landscaping to the human body, and will unveil a brand new "genuinely responsive" website next year.
"Innovation and stability are crucial for sustained growth in the future"
Given that its website is already market-leading, its new iteration should turn a few heads.
Asos is also tackling the thorny issues of warehouse scandals – it dumped controversial staffing agency Transline in May – and is making concrete and public efforts to stamp out abuse in its supply chain both at home and abroad.
That might sound rather rudimentary, but in the sometimes murky world of fast fashion, it is bolder than it first appears.
Add to that its plans for a new £31m US fulfilment centre, which should fuel the already stellar growth in the country, and it looks set for a healthy year ahead.
Despite all this, there will be naysayers who point to the performances of the other etailers as proof that Asos is beginning to lose its touch.
But while the meteoric growth at some of its rivals should not be discounted, innovation and stability are crucial for sustained growth in the future.
At 17 years old, Asos may be the grande dame of the etailers, but there's plenty of life in the old bird yet.