High street sales growth remained robust in October as the clothing sector bounced back after a mild September, according to the CBI.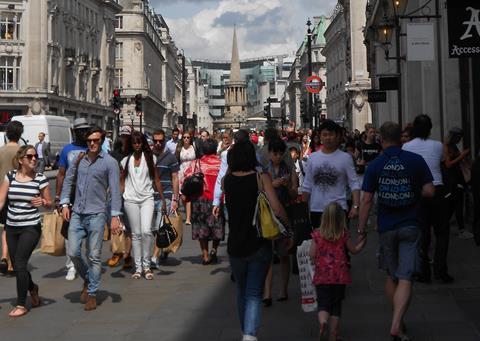 The CBI Monthly Distributive Trades Survey showed a third successive month of above-average sales growth as 48% of retailers said sales volumes increased in the year to October, while 17% reported a fall, leaving a balance of 31% reporting sales increases.
Despite an acceleration in sales within clothing and mainstream grocery, there were falls recorded by chemists, hardware and DIY and specialist food and drink.
CBI director of economics Rain Newton-Smith said: "Sales on our high streets are still ticking along and, with similar prospects next month, retail growth is looking more stable.
"The clothing sector in particular appears to be bouncing back after the mild weather in September deterred people from buying their winter warmers.
"The recent fall in inflation may help lift the spirits of households by making their budgets stretch further. But risks remain to the UK recovery more generally, with the eurozone stalling, conflict in the Middle East and tensions over Ukraine."
Improving economic confidence
The balance of clothing retailers recording growth was 86%, the balance of grocers, and furniture and carpets retailers in growth was 33% and 72% respectively.
However, the balance of chemists reporting sales falls was 55%, specialist food and drink was 24%, and hardware and DIY was 33%.
Barclays head of retail and wholesale Richard Lowe said: "The furniture and carpet retail sectors are seeing strong growth as people look to update and refresh their homes, which chimes with the improving economic confidence we've been seeing.
"All eyes are now on the all-important Christmas trading period, and our high streets and shopping centres are already beginning to sparkle with tempting festive displays to lure shoppers in-store."