Oasis has launched a mobile store called Bessie the Bus, which will begin a tour of towns and cities across the country next week.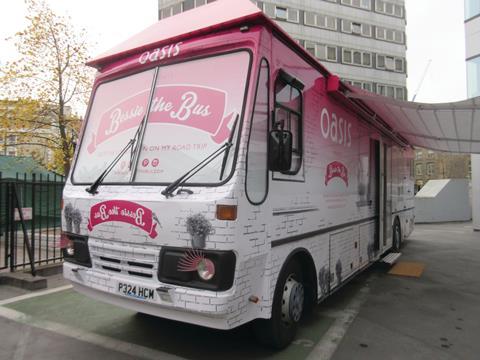 The bus will travel around the country for the next 12 months, operating the store at regional events, retail parks, and areas where Oasis does not currently have a retail presence, a spokeswoman for the retailer said.
As part of Oasis's wider multi-million pound refit, Bessie the Bus features the brand's new interior with some additions including a retro fridge displaying knitwear, a kitchen hob holding key accessories and a breakfast bar that doubles as a hanging display unit.
A jewellery box opens to print customer receipts and the bus is also equipped with a fitting room.
Oasis chief operating officer Hash Ladha said: "We are continuing to make significant investment refitting our flagship stores and services nationwide and in addition we are now launching the store which goes to customers rather than waiting for customers to come to us.
"Bessie the Bus is a part physical, part digital store, which continues to build on our social and local strategies. It isn't a marketing gimmick, as Bessie trades like a store, has its own P&L, sales plan, and full-time team.
"It, of course, helps with brand awareness and has an amazing road trip planned, which I'm sure will create a buzz locally."
The bus, which was a former mobile library, will be a complete "store on wheels", with more than 250 stops planned for the next 12 months.
The retailer emphasised that the bus is a fully functioning store, with a driver, store manager, and supervisor.