Next increases full-year profit guidance after strong third quarter
Like-for-like sales increase 6% during the period
Retail like-for-likes rise 5.9%, directory up 6.2%
Next has edged up its full-year profit guidance after like-for-like sales increased 6% during the fashion giant's third quarter.
The retailer had predicted an increase of between 3.5% and 7.5% in like-for-like sales during the period ending October 24 and said it now expects full-year pre-tax profits to be in the range of £810m to £845m. Next previously forecast a full-year total between £805m and £845m.
But Next warned on the "continued volatility of consumer demand" after weekly sales fluctuated compared to the same period last year.
The retailer said it experienced strong demand in September, but its sales during the quarter were flattered by "poor comparative weeks" last year.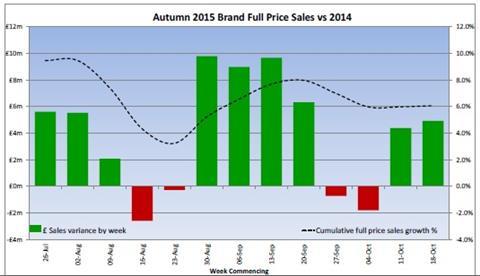 Next's growth during the third quarter was driven by a 6.2% increase in like-for-likes within its directory business. Retail like-for-like sales rose 5.9% during the period.
Total sales for the third quarter were up 7.3% as markdown sales grew faster than full price sales, the retailer added. Total retail sales were up 5.4% while its directory reported a 9.8% jump.
Those figures compare favourably to its first half results when sales rose 3.3%. But that trading update was overshadowed by boss Lord Wolfson's warning that Chancellor George Osborne's new national living wage would add £27m a year to its salary bill and force it to increase prices.
Next will issue its Christmas sales update for the period to December 24 on Tuesday January 5 2016.