N Brown aims to ramp up sales of its over-50 menswear range after identifying it as an area of growth opportunity for the business.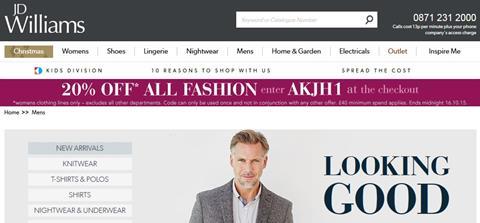 The fashion group is diverting resources into expanding its menswear design team as it seeks to grow the category to spur sales at its plus-size fashion brand JD Williams
Chief executive Angela Spindler believes she can replicate the success N Brown has had with over-50s ladieswear as it targets a customer she defines as "the husband" of brand ambassador Lorraine Kelly.
She said: "We are confident we can create and drive a really strong menswear offer through JD Williams.
"Our menswear success and momentum is currently coming in younger menswear through Jacamo, where we have an opportunity is in older menswear by doing a JD Williams men's range for the 50-plus male shopper."
Menswear is currently a "single digits" percentage of JD Williams sales.
JD Williams turnaround
N Brown said the JD Williams turnaround is "on track" with new customers up 21% and online penetration exceeding 50% for the first time during the half ending August 29.
However, JD Williams' product revenue was flat year-on-year, remaining at £103.1m.
Spindler said sales were held back by its catalogue brand Ambrose Wilson, which makes up a third of JD Williams customers.
The Ambrose Wilson brand will be dropped next year once customers are migrated over to the core JD Williams brand, which Spindler believes will boost sales due to the marketing budgets being spent on promoting JD Williams.
During its first half N Brown's underlying pre-tax profit dropped 15.9% to £35m as it invested heavily in its digital transformation.
Group revenues increased 4.2% to £415.8m, while statutory pre-tax profit plunged 54.6% to £19.4m for the half year, following exceptional costs accrued over the six months relating to the closure of 18 clearance stores
Spindler expects a "step up on in profitability" next half as costs related to the transformation lessen.
She added the second half of the year had "started well with a pleasing performance in September".