Flash sales etailer MySale will start selling Arcadia brands on its Australian and New Zealand websites in the next four to six weeks.
MySale, in which Arcadia boss Sir Philip Green holds a 25% stake, will begin selling brands including Dorothy Perkins and Wallis in the countries.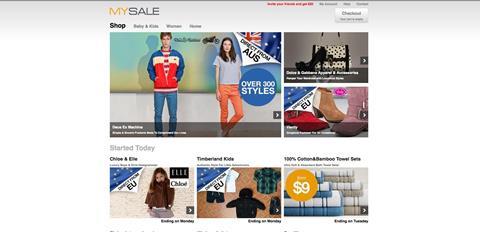 Due to Arcadia's UK presence, MySale will not sell the brands on its British website.
The move will boost Arcadia's presence down under. The fashion business has no bricks-and-mortar stores in New Zealand, but operates 12 Miss Selfridge shops and six Topman and Topshop sites in Australia.
MySale began selling the Topshop and Topman brands in the two markets in 2014, the same year that Green invested in the retailer. MySale declined to give more detail on sales figures of the two brands.
Green is known to be an active investor in the site, advising brothers and founders Carl and Jamie Jackson on strategy and proposition.
Trading results
MySale posted an improved first-half performance this morning, as strategic initiatives bore fruit.
It recorded interim underlying EBITDA of Aus$1.5m (£7,700,000) compared with a loss of Aus$11.4m (£5.84m) in the first half of last year. Sales climbed 4% to Aus$128.2m (£65.7m) and average order value jumped 17%.
Finance director Andrew Dingle said that the return to profitability was due to an improved product offer and a reduced reliance on promotions.
He told Retail Week: "Product proposition has been nailed and that has allowed us to form a strong relationship with the customer so we don't have to do promotional activities. We have improved our re-order stats and now have to do less to stimulate buyers."
MySale is focusing its UK efforts on its Cocosa site, which it purchased from Mohammed Al-Fayed in May 2014.
Cocosa sells premium brands, compared to MySale's mid-market proposition. Chief executive Carl Jackson told Retail Week in January that the UK mid-market discount scene was saturated by the likes of TK Maxx.
Today Jackson added: "In the UK we are getting much more traction on Cocosa than MySale. It has greater brand equity and so that is where our investment focus is."