Formal menswear retailer Moss Bros first half sales increased but profits slipped as it temporarily closed stores to refit them.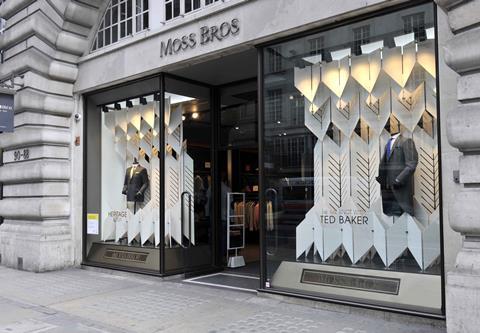 Pre-tax profit fell from £2.2m to £2m in the 26 weeks to July 26. Operating profit dropped from £2.2m to £1.9m "due to the higher number of stores that were closed for refit in the first half of this year, compared with the previous year", Moss Bros said.
Moss Bros has accelerated its store modernisation schedule, completing nine refits in the first half compared with four in the same period last year. Out of the 133-strong store estate, 49 have been revamped.
Despite the profits dip, total sales increased 4.6% to £55.8m. Like-for-likes were up 6.4%, and up 6% in the first seven weeks of the second half.
Retail like-for-likes advanced 8.5% in the first half and ecommerce sales surged 100%, now representing 6.8% of total revenue. The retailer said it has become one of the first retailers to introduce 'Login & Pay with Amazon' as it continues to "innovate and develop our service proposition", according to Moss Bros chief executive Brian Brick.
Like-for-like hire sales were down 2.7%, an improvement on the 3.8% fall reported for the first 16 weeks of the half year.
Retail gross margin was up 0.2% due to reduced levels of residual stock. Overall gross margin was down to 59.1% from 59.7% in the same period last year "due to the reduced participation of hire in the overall sales mix".
Brick said: "These results reflect another period of progress for the company.
"We continue to invest in the future and make good progress in delivering our strategy. The successful launch of our new sub brand line up at the start of the autumn 2014 season, in conjunction with our ongoing store refit programme, means our customer offer is now more closely defined and aligned with our target customer groups. Ecommerce continues to grow strongly and our plans to develop a fully multichannel customer experience are on track.
"The decline in hire moderated in the second quarter and we expect to see further improvement in the second half of the year as we move out of the wedding season into eveningwear. We continue to develop our hire proposition, both in terms of product offer and service.
"The early response to the autumn/winter retail range is positive, with like for like sales continuing to improve year on year.
"The group's financial performance continues positively and in line with the board's expectations for the outturn for the year."