Moss Bros boss Brian Brick has said the retailer made "strong progress" in its first half as sales and profits were boosted by its online performance.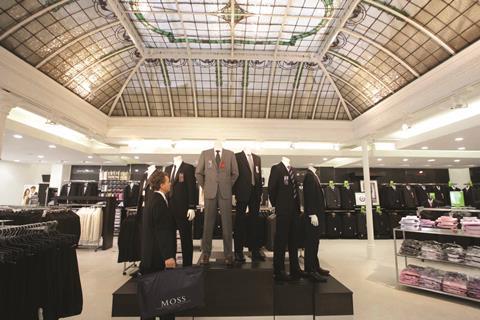 First-half pre-tax profits up 44% to £2.8m
Like-for-like retails sales rise 9.7%
Ecommerce sales up 55%
Finance director Robin Piggott to retire after six years
Like-for-like retail sales in the six months to August 1 rose 9.7%, while total sales came in at £61.3m, up 10% on the previous year.
Pre-tax profits in the period jumped 44% to £2.8m, led by growth in its ecommerce business and the "recovery" in its wedding hire category.
Brick said: "The half-year under review was another period of strong progress for the company.
"The successful launch of our new Moss Bros sub brand line up at the start of the autumn 2014 season, in conjunction with our ongoing store refit programme, has ensured our customer offer is now more closely defined and aligned with our target customer groups, and is steadily building equity in the Moss Bros brand.
"The early response to the autumn/winter retail range is positive, with like-for-like sales continuing to improve year on year. The group's financial performance continues positively and in line with the board's expectations for the outturn for the year."
Brick said that ecommerce sales had "grown strongly" during the half year, following a 55% jump. He added that Moss Bros was "at the very early stages of testing our retail proposition in international markets".
Moss Bros has secured a tie-up with a franchise partner to launch a two-store pilot in the Middle East. The first of the two stores is due to open later this year.
The retailer also revealed that its finance director, Robin Piggott, will retire following its AGM on May 20, 2016. Piggott will remain in his role until then to ensure "a smooth transition" with his successor.
Moss Bros chairman Debbie Hewitt said: "The board would like to express its sincere thanks to Robin for his invaluable contribution to the group over the past six years, during which time he has played a pivotal role in the successful turnaround and subsequent progress of the business."
Hewitt added that the search for Piggott's successor would "commence shortly."