Moss Bros has reported a full-year pre-tax profit increase of 9% to £4.8m and has moved forward with its omnichannel strategy.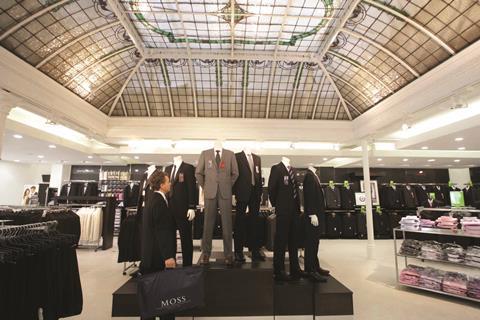 Ecommerce now accounts for 7.8% of Moss Bros' total sales and in 2014 it reported a 58.9% increase in online sales.
The menswear retailer has also created a new position of omnichannel director to ensure customers can shop seamlessly across all channels.
Chief executive Brian Brick said :"The modernisation of the store portfolio is achieving the anticipated returns and we have exciting plans for the implementation of our multichannel shopping environment. The adoption of the master brand 'Moss Bros' and launch of our sub-brands in autumn 2014 have improved the resonance the brand has with current and potential customers of all age groups."
The retailer also reported a rise in EBITDA by 5.4% to £9.7m in the 53 weeks ending January 31, putting the increase down to improved sales and tight control over pricing.
Group like-for-like sales were up 5.5% to £126m, with retail sales up 7.1%, but hire sales down 3.6%.
Over the past year Moss Bros launched sub-brands Moss London, Moss 1851, Moss Esq.
It also revamped 14 stores as part of its ongoing refit plan.
Hire business
While Brick said the retailer's hire business was still showing signs of recovery, its like-for-like hire sales were down 3.6%. Wedding hire was down 6.5% and non-wedding hire up 4.3%
But the hire business, which represents 14% of sales, had an overall effect on gross margin, which fell by 70 basis points to 58.3%.
The retailer reported positive early season performance for the first seven weeks of 2015, as well as a good response to its new lounge suits hires. Moss Bros is also testing a multichannel hire website with its customers, which provides party booking options for customers.
"The early response to the 2015 spring/Summer retail range is positive, and retail like-for-like sales are continuing to improve year on year. Hire is showing signs of recovery and we are well placed to maximise revenues in 2015 following a difficult two years for wedding related hire," said Brick.
"Although the external market continues to be fragile, the business is on track to achieve market expectations in 2015/16."
Brick also noted that group like-for-like sales for the first seven weeks of the new financial year are up 7.5%.