Formalwear retailer Moss Bros has reported a 7.4% jump in like-for-likes as bosses remain "confident" of hitting targets.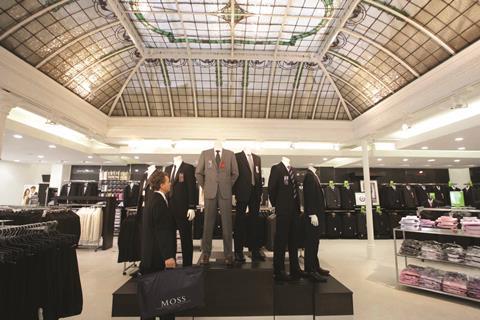 Like-for-likes rise following investment in ecommerce and store refits
Ecommerce sales surge 64.9% year on year during its first quarter
Bosses "confident" about "medium-term growth prospects"
Total sales in its first quarter rose 6.4% year on year, while like-for-like sales including ecommerce were up 7.6% in the 15 weeks to May 16.
Ecommerce sales jumped 64.9% on the year, driven by the "ongoing development" of Moss Bros's retail and hire websites. Ecommerce accounted for 10% of total sales for the period, compared with 6.5% for the same period last year.
In March, Moss Bros revealed it was moving forward with its omnichannel strategy and had created a new position of omnichannel director to allow customers to shop seamlessly across all its channels.
Meanwhile, hire sales increased 6.4%, which bosses said was driven by an "encouraging trend" for 2015 wedding bookings.
Moss Bros continued its store refit programme with 11 stores revamped during the first quarter. The retailer said 69 of its 128 stores were now trading in the new formats, which are "on track" to achieve "anticipated payback targets".
Moss Bros chief executive Brian Brick said: "We are pleased with our progress. Retail sales and margins have continued to improve, boosted by the increasing contribution from refitted stores and the lower levels of residual stock.
"Hire sales continue to show the improvement seen earlier in the season and are showing good growth on the prior year. Ecommerce sales in the first 15 weeks of the year continue to grow, reflecting our continuing investment in systems and infrastructure.
"This is another good period of progress for Moss Bros and we continue to remain confident about our medium-term growth prospects."