Fashion retailer Moss Bros has named a new group finance director and chief operating officer as the retailer eyes its next phase of growth.
The formal menswear specialist has poached Charles Tyrwhitt's finance director Tony Bennett as its new finance boss, and hired Paula Minowa as chief operating officer, a new role for the retailer.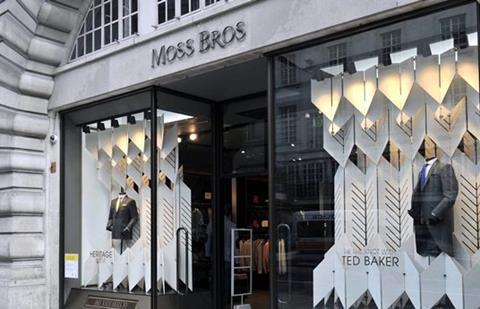 Previously Minowa was chief executive of German lifestyle retailer Strauss Innovation.
Bennett is expected to take up the role of Moss Bros group finance director on August 15, replacing Robin Piggott, who announced his intention to retire in September 2015 and will leave the formal menswear retailer's board in May.
Piggott will stay in the role however until Bennett joins.
Bennett joined Charles Tyrwhitt in 2009. Previously he was head of commercial finance at Selfridges and before that chief financial officer at Confetti Network.
Minowa joins on March 1 and will become a member of the executive committee, reporting to Brian Brick. She will have responsibility for the customer journey across all channels and across all territories.
Before Strauss Inovation she held a range of general management, brand management and merchandising roles, including managing director of Ann Summers and brand and communications director at Asda.
'First-class credentials'
Moss Bros chief executive Brian Brick said: "Tony has considerable experience across a variety of different consumer businesses, with different channel strategies and will no doubt bring valuable insights to the business.
"Paula brings strong experience in brand management, multichannel expertise and first-class general management credentials in international businesses.
"We have in recent years established Moss Bros as a growing and successful menswear business. Tony and Paula join us at a time where we have considerable opportunity to leverage the Moss Bros brand further in new channels and new territories.
"I believe that their combined experience will allow them to make an immediate contribution. I am personally very excited about leading the business through this next phase of growth and am looking forward very much to working with them both."
Analysts were qually effusive, with Jonathan Pritchard at Peel Hunt saying: "Today's announcement of the recruitment of two heavy industry hitters is testament to how Moss Bros has evolved.
"A new FD had been on the agenda for a little while and Tony Bennett's CV probably put him top of the wanted list. Equally eye-catching is the recruitment of Paula Minowa as COO: her CV suggests vast experience of multi-channel retailing and nods at the way that Moss sees its future."
Liberum's Wayne Brown added: "The appointment of a new finance Ddrector alongside a chief operating officer signals the intent to establish a business primed for growth. We view both appointments as high quality and credible."