Mike Ashley is selling over 15 million shares equating to a 2.6% stake in Sports Direct through Goldman Sachs for £117m.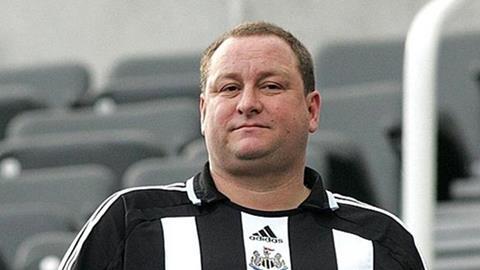 The billionaire entrepreneur will sell 15.4m shares, reducing his total stake in the sports retailer to 55%.
In 2014 he acquired an 11% stake in department store group House of Fraser in an attempt to block its takeover by Sanpower, the Chinese conglomerate.
Sports Direct also placed a £43m bet on 43 million Tesco shares in September and entered a derivative agreement with Debenhams in November, taking its interest in the department store group to 12.7%.
The sale comes less than a year after Ashley, who owns Premier League football club Newcastle United, offloaded £200m of stock, triggering a plunge in Sports Direct's share price.
News of the sale is yet to be confirmed by Sports Direct, but emerged in a statement from Goldman Sachs announcing it would sell the shares on behalf of Mash Holdings, which is solely owned by Ashley.
Ashley's interest in Rangers
The revelation has also sparked rumours that Ashley is preparing to offer cash-strapped Scottish football club Rangers an emergency loan worth £10m.
Ashley has filed documents notifying Land Registry officials that he plans to add Sports Direct to the title deeds of Rangers' stadium and training ground.
That move is seen as the next step before offering Rangers a multi-million pound loan, which would effectively put him in control of the Glasgow-based club.
Ashley's latest share sale comes after he withdrew from Sports Direct's company bonus scheme. He already receives no salary or dividends from the retailer.
Sports Direct is yet to reveal its Christmas trading update, but in December the retailer announced "solid" results in the 26 weeks to October 26, despite England's early exit from the 2014 World Cup.