First-half earnings climb almost 20%
Retail revenue up 15.8%
International now accounts for 10.6% of group sales
Fashion retailer Joules has posted a rise in sales and profits during its first half.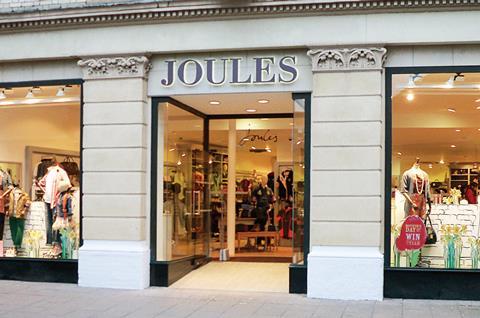 Joules recorded a 16.2% increase in revenues to £81.4m in the period to November 27, 2016, when underlying pre-tax profits climbed 19.9% to £7.5m.
Joules chief executive Colin Porter said trading in the second half of the year to date has been strong and was confident of continued growth at home and overseas.
Retail revenue rose 15.8% in the period, during which ecommerce sales climbed 30.3% and store sales were ahead 11.2%.
Porter told Retail Week that the retailer had no plans to put up prices in the year ahead.
"We're in a good place to hold steady on our selling prices and we've hedged our currency for the next 18 months," he said.
"We're going out with a clear message to customers that they can still get the same Joules quality at the same price."
International sales, up 39.3%, now represent 10.6% of the group total.
Porter told Retail Week that the retailer aimed to have its international business comprise 20% of its overall sales in the next few years, which would be driven through partnerships with regional retailers.
"Our focus in the US is firmly wholesale - we saw wholesale grow 51% overall and US growth was even stronger than that.
"Never say never to standalone stores but it's not in our short or medium term horizon."
Active customer numbers rose 30% to 922,000.
Porter said Joules has continued to trade well since the period end, and sales over the seven-week Christmas period to January 8 were up 22.8%.
He said: "Joules has continued to perform well during the first half with strong growth delivered across the brand's distribution channels and target markets.
"This significant progress reflects the quality and design of our products and the growing demand for the Joules brand, both in the UK and internationally.
"The board remains confident in the brand's continued development both in the UK and internationally."
Joules has 107 branches in the UK and Ireland and a database of 2.3 million customers.
The retailer floated in May last year, and today declared a maiden interim dividend of 0.6p.