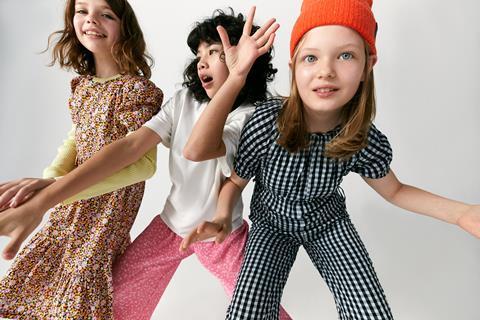 John Lewis, which holds a strong position in nursery clothing with a 16% market share, is less strong in older age groups.
It aims to extend its appeal in the latter category as the kids' clothing market is forecast by Mintel to grow from £6.8bn last year to £7.3bn by 2027.
The initiative includes the department store group's first 'tween' range by Ferrer, for seven- to 12-year-olds.
Altogether there are approximately 2,100 new lines and 10 new brands, including Mintie by Mint Velvet and Mango, in the spring 2023 collection.
John Lewis executive director Naomi Simcock said: "We've long been trusted by families and have strength in the nursery and baby market. Through expanding our kids' range, we're excited to be there for even more customers, at every stage of family life.
"Not only have we expanded our kidswear range, we've made it more stylish – taking inspiration from 90s trends, with bold prints and colours – and have innovative plans to make it a focal point in our shops.
"This is also our first big campaign to back our new brand promise to be there for 'all life's moments'. We're not just here for the milestone moments, but all the everyday ones in between."
Ferrer, who joined the retailer last September having formerly held senior roles at Inditex's Massimo Dutti and Marks & Spencer, also founded childrenswear brand Five of Us.
The retailer said that the childrenswear relaunch will "introduce a more modern aesthetic".
Get the latest fashion news and analysis straight to your inbox – sign up for our weekly newsletter