Full-year sales up 18.5% to £104.9m
Like-for-like sales grew 12.3%
International store openings planned in Saudi Arabia, the US and Amsterdam
Sales at Jigsaw have soared past the £100m mark, as the fashion chain sets pieces in place for further international expansion.
The retailer, which is owned by founder John Robinson and 13 senior members of staff, reported full-year sales up 18.5% to £104.9m in the year to October 3. Like-for-like sales grew 12.3%.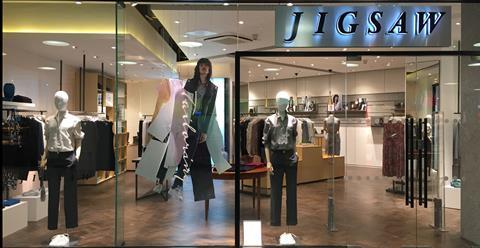 Jigsaw, which has 70 stores, said EBITDA surged 79% to £5.6m. Total group EBITDA jumped 187.4% to £5.4m.
Sales of its junior clothing soared 82%, while accessories climbed 31%. Menswear grew 15% and womenswear 12% during the period.
Sales at Jigsaw's standalone spin-off store The Shop at the Bluebird, which will launch its own transactional ecommerce site next spring, grew 37%.
Online sales increased 23%, helped by a "successful re-platforming" of its website to a fully responsive design.
On more recent trading, Jigsaw said its strategy of refusing to join in on Black Friday and posting a manifesto outlining its refusal to discount its clothes paid off. The company said: "The full-price manifesto was well received for Black Friday, with the brand trading successfully at full price."
Expansion plans
During the period, Jigsaw opened seven stores and two pop-ups in the UK. Overseas, the retailer extended its footprint with a concession in De Bijenkorf in Eindhoven, a pop-up with Galeries Lafayette in Paris, a wholesale partnership with Robinsons Singapore and a concession in Johannesburg.
International expansion continues to be high on the agenda for next year with the opening of a new store in Saudi Arabia in the summer and three concessions in Bloomingdales in the US in early 2016. More concessions are underway in De Bijenkorf stores in Amsterdam and Utrecht.
Jigsaw said it took back its Australian license and will launch a wholly-owned operation in 2016.
Jigsaw group chief executive Peter Ruis said: "I am delighted with the progress Jigsaw has made in the last financial year. At the forefront has been an unswerving commitment to design and innovation. It could not have been achieved without the skill and commitment of the fantastic Jigsaw team."