JD Sports group pre-tax profits surge 66% to £77.4m in the 26 weeks to July 30
Sales rise 20% to £970.5m
The group has unveiled plans to open JD sports in Australia following its acquisition of Next Athleisure
JD Sports has unveiled plans to set up shop in Australia amid a record half-year for the retailer with pre-tax profits rocketing 66%.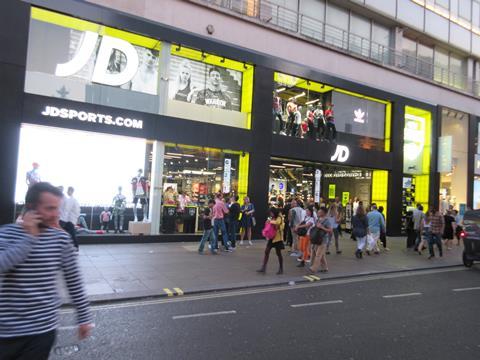 The sports fashion retailer has acquired Australian retailer Next Athleisure, which has 32 stores currently trading as Glue.
JD Sports said, as it posted record half-year results, that that the newly purchased business will "provide the platform to open JD in Australia".
The retailer, which acquired two Dutch retail chains in March, has also expanded its presence in Malaysia after snapping up Sports Empire, Revolution and The Marathon Shop.
JD Sports plans to grow its international footprint further still, having also opened 20 new stores across Europe and making "complementary acquisitions" in the Netherlands and Portugal during the six-month trading period.
JD Sports executive chairman Peter Cowgill said the group's international expansion is viewed positively by its key suppliers.
He said: "Although the UK's vote to leave the European Union means that there will be some uncertainties over the next two or three years, we have no doubt that we have the support of our brand partners to continue our expansion in Europe and beyond."
Half-year results
The Bury-headquartered retailer posted a 66% increase in pre-tax profits before exceptional items to £77.4m.
Sales in the 26 weeks to July 30 grew 20% to £970.5m, with the retailer also heralding "strong like-for-like sales growth" of approximately 10%.
Cowgill predicted "excellent" half-year results when the retailer was enjoying a sales boost from the Euros football championship earlier in the year.
Today Cowgill said: "Given that last year's result was in itself a record for our group, then to increase this by a further 66% has exceeded reasonable expectations.
"The favourable trends for athletic inspired footwear and apparel in Europe have continued into this year. We are very much at the centre of this market with our success being a positive consequence of the investments we have made over a number of years to develop the JD retail concept."
The group narrowed its losses at its Outdoor division to £2.2m, compared with £4.5m the previous year, as it continues to evolve the proposition.
Outdoor proposition
Cowgill, who is rumoured to be eyeing a bid for rival high-street chain Go Outdoors, said: "Our Outdoor businesses have made encouraging progress in the first half as we see the positive benefits from actions previously taken to simplify the operational leadership, evolve the offer and drive higher merchandising standards.
"We are confident that we are creating an Outdoor business that has a proposition which is capable of trading more effectively all year round."
Cowgill acknowledged that, while favourable trends for athletic-inspired footwear and clothing in Europe have continued into this year, the business is "very conscious" that the market for sports and fashion brands can change quickly.
He said: "We continue to invest in visual merchandising, retail theatre and creative marketing as we believe that it is JD's market-leading standards in these areas that make it an attractive outlet to many brands."