Former Bank managing director Gwynn Milligan has been appointed trading director at Jaeger as part of an executive team shake-up.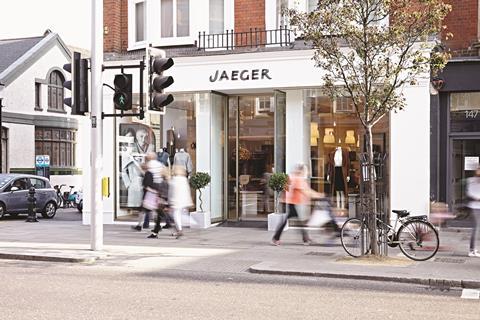 Former Bank managing director Gwynn Milligan joins as trading director. She has also worked at Reiss, Asos and Arcadia
Boss Colin Henry reshuffles executive team as part of five-year turnaround plan
Changes are made to improve integration across online and in-store
Gwynn Milligan, former managing director at Bank, has joined Jaeger in the new role of trading director.
Milligan's CV boasts roles as trading director of Reiss prior to her 19-month stint at Bank. Prior to that she held roles at Asos and Arcadia.
The appointment was unveiled as the womenswear retailer shook up its executive team. Other changes include adding menswear and accessories responsbilities to womenswear director Liza Webb, while Caroline Lee has been promoted from chief operating officer to omnichannel director.
IT boss Cathy McCabe will also join the senior executive team, headed up by chief executive Colin Henry.
Those departing Jaeger include retail director Fyl Newington and director of menswear and accessories Evan Druker.
Jaeger is in the early days of its five-year turnaround plan.
In January it posted a strong sales performance over the crucial Christmas period. The retailer generated a like-for-like advance of 8% in the 13 weeks to January 3, while total revenues climbed 8.3% in the period, when womenswear sales rose 6% and menswear was up 14% year on year.
The retailer said: "These changes are about improving integration across our sales channels – both online and in-store – and across product categories. Whilst Jaeger is still in the early stages of a turnaround, it is making solid progress and the new leadership structure will support the on-going growth of the business.
"Jaeger continues to make good headway, including the positive reception of the autumn/winter 2015 collection launched earlier this month."