Jaeger has unveiled plans to rebuild its UK business before expanding internationally as part of a five-year strategy that includes returning it to the black by next year.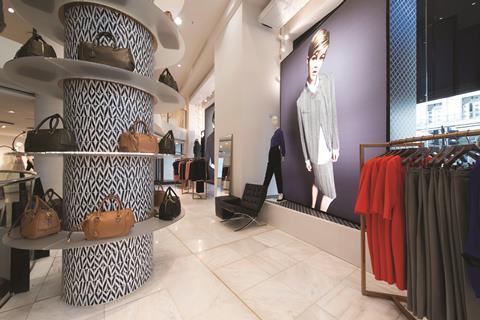 The fashion retailer's strategy, devised by new chief executive Colin Henry, who started in June, focuses on re-engaging with its core affluent 40 to 65-year-old customer, 'Mrs Jaeger', and drawing on its 129-year heritage.
Henry wants to return Jaeger to a design-led brand and is poised to appoint a creative director - a new position - to lead a new team dedicated to both men's and women's clothing.
It is a reversal of plans outlined by the previous management, led by Stewart Binnie who left earlier this year after just nine months. The old team was poised to roll out stores in Asia this year.
Henry said he wants to get the UK business back on track before pushing the button on "aggressive" international expansion plans, which will start with an online push.
Henry would not be drawn on which countries he will target but said Jaeger aims to draw on its British heritage.
In a bid to turn around the UK, Henry will axe Jaeger's unprofitable sub-brands, Jaeger Boutique and Jaeger London, next year as he seeks to focus on the core business.
Jaeger, which trades from 40 stores, is actively seeking new shop openings to target 'Mrs Jaeger'.
Next year Jaeger will also relaunch its website and refit its King's Road store in London before rolling out the new design across the estate. It will also launch a marketing campaign to celebrate the brand's 130th anniversary.
The new strategy comes a week after Jaeger revealed it had more than halved pre-tax losses to £13.1m in the year to February 23. As part of the five-year £25m plan, Jaeger plans to grow sales by 25% to 30% by 2018.
Henry said: "There are business opportunities because Jaeger doesn't have an international business, it has no wholesale business and it has very little ecommerce business to speak of. It's the first time we've had a strategy as comprehensive as this."
In addition, Henry wants to reinstate the use of quality fabrics into Jaeger's products, particularly focusing on luxury materials such as merino, cashmere, camel, angora and alpaca. Henry maintained that prices will not rise as a result and added that Jaeger's margins will be protected by selling more products at full-price. Jaeger is also planning to bring around 5 to 10% of its production back to the UK.
"The inconvenient truth is that the prices are too high for the product we are trying to sell," Henry admitted. "It will be more realistic pricing. We need to offer great value for money."
Meanwhile, Henry said its concession arm is a "good business" and Henry aims to build relationships with department stores John Lewis, House of Fraser and Fenwick to up its number of its concessions.
Licensing is set to be another area of growth for the business in the future, as Henry hopes to potentially launch into fragrances and luggage.
Jaeger was bought by Better Capital last year after a period of difficult trading.