Jack Wills plans 10 stores across UK and Asia
Exact locations of stores as yet unknown
Retailer has expanded loan facility with HSBC to facilitate growth
Jack Wills is to open 10 new stores across the UK and Asia over the next year, and has increased its credit facility to achieve its plans.
The British fashion retailer, known for its preppy style, has agreed to expand its revolving credit facility with its principal lender HSBC by 50%, from £20m to £30m for the next year.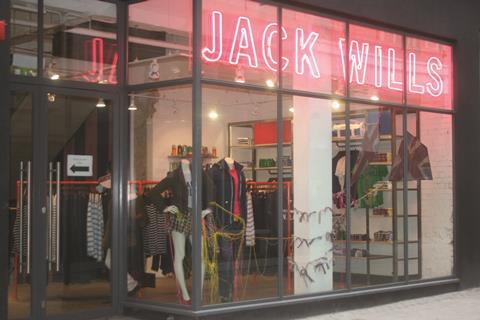 Jack Wills has not yet divulged where the new stores will be located. It currently has 65 UK branches and 19 international stores with a presence in the US and Asia, including in Hong Kong, Macau and Singapore.
It also has three franchised outlets, in partnership with MH Alshaya, in Dubai, Beirut and Kuwait.
In recent years Jack Wills has scaled back its US operations from 15 to 10 stores and closed a handful of shops in Hong Kong.
The retailer's founder and former chief executive Pete Williams returned to Jack Wills as chief executive in August last year, following the departure of Wendy Becker, who held the role from 2013.
Jack Wills also stepped back from a possible IPO in 2015. It is primarily owned by Williams and co-founder Robert Shaw.
The retailer has been substantially loss-making for the past three years, although group sales edged up 2.1% to £132.0m in 2014/15.
Its UK operation accounted for over 90% of this with sales of £120.9m.
Williams said: "This gives us the opportunity to grow the business globally through the summer and on towards Christmas, building on the positive trading we have enjoyed over the past six months."