Amazon's glossy new advert for its try-before-you-buy fashion offer Prime Wardrobe is certainly persuasive.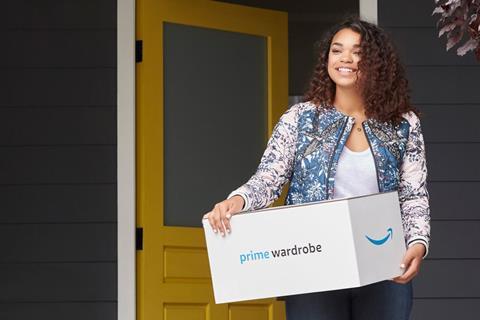 In it, customers of all ages, races and genders with different lifestyles and looks, have Amazon Prime Wardrobe boxes delivered to their pristine, Instagram-worthy homes.
They are then free to try on their box-fresh clothes in the comfort of their own bedrooms – all without money ever leaving their account.
Payment is only taken when the Amazon Prime Wardrobe shopper decides to keep the garment.
And there's no trek to the Post Office or corner shop to drop off the parcel, as Amazon will drop by to collect it from the shopper's doorstep sometime in the next week, with no need for the customer to be in at the time.
Then there are the added extras: Amazon is incentivising sales through the scheme by offering Prime customers a 10% discount if they keep three or four items, and 20% off if they purchase five products or more.
Going for the jugular
It's a classic move from the online behemoth: going for the jugular of whichever category it is trying to disrupt that year while strengthening its own offer.
"Amazon loves solving problems and nine times out of ten it is successful because it views the issue through the customer's eyes," says Planet Retail global research director Natalie Berg. "It also bolsters the value of Prime –its intention is to make Prime utterly indispensable."
Amazon is solving three problems here: first up is the problem online fashion retail has with money leaving its customers' accounts.
"It removes that [customer] hesitation because you don't have to make any outlay in the first place – very often retailers are not the fastest to get money back to customers"

Laura Morroll, LCP Consulting
A large portion of online fashion customers are relatively young, with less disposable income than older generations. They feel the impact of money leaving their accounts and waiting weeks for a refund.
Although it's possible for consumers to use Paypal to avoid that, it's still a big issue for retailers, who want to make potential transactions as frictionless as possible.
"This idea certainly gets over that hurdle," says LCP Consulting managing consultant Laura Morroll.
"It removes that [customer] hesitation because you don't have to make any outlay in the first place – very often retailers are not the fastest to get money back to customers."
Asos chief executive Nick Beighton recently spoke to Retail Week about his vision of making returning something as easy as buying it. The business is working out how to refund its young budget-conscious shoppers as soon as they hand over a returns parcel at the Post Office or returns outlet.
The Asos boss did admit, however, that the process to revolutionise returns is "fraught with issues".
Amazon Prime Wardrobe bypasses that problem and follows the approach of retailers in other countries such as Germany and China, where payment on receipt is the norm.
The second problem Amazon is solving is that of the ultimate convenient return.
Although online deliveries are undoubtedly convenient, the issue of returning items still rankles. It involves consumers repacking goods, and going out of their way to send it back.
The third problem it addresses is giving customers a truly comfortable changing room – their own home.
Even customers of high street retailers are opting to buy clothes before trying them on in order to avoid the often miserable experience of changing rooms, where bad lighting can emphasise every lump, bump and pore.
Should retailers follow suit?
With Amazon cleverly solving three shopper dilemmas in one fell swoop, it is easy to assume that every fashion retailer should be running scared. But that isn't the case.
Morroll believes smaller retailers could take take advantage of Amazon Prime Wardrobe by selling on the platform.
"For small brands, it may well be good for them. It will be interesting to see how many more brands jump on that Amazon bandwagon," she says.
"Some have been holding off because of brand association but this may begin to change their mind." Like Nike, for example, which is understood to have struck a deal to allow Amazon to sell its shoes directly for the first time.
"The strongest fulfilment offer will not suffice on its own if the product range fails to drive the customer to the checkout in the first place"

Rebecca Marks, Retail Week Prospect
However, larger multi-brand platforms such as Asos and Shop Direct may need to be more responsive. But this has drawbacks.
The cost of fulfilment is already a burden to most retailers and to copy a move such as this would be prohibitively expensive.
"Unless you, like Amazon, are in control of the logistics process, the ability to recover your outlay is low," says Neil Ashworth, chief executive of convenience store collection network CollectPlus, and former Tesco supply chain director.
However, he believes that the Prime Wardrobe fulfilment option is likely to boost fashion sales and bring Amazon economies of scale.
"If customers try more product and buy more, it probably washes its face," explains Ashworth.
Will it help Amazon win big in fashion?
While Amazon's fulfilment may be a big draw for shoppers, other elements of its fashion offer are still lacking.
"One of the things I don't think Amazon is very good at is curating its range," says Morroll. "It's hard to filter, they don't have much lifestyle imagery.
"Shopping on Amazon doesn't create the same brand affinity as when you shop on a nice fashion website. It doesn't have that aspirational association and that can go a long way."
Berg believes that product is still an issue for Amazon fashion, despite its push into own-label.
"The big red flag here is product development," she says. "A lot of shoppers still view Amazon as a destination for the basics."
As Retail Week Prospect senior analyst Rebecca Marks puts it: "The strongest fulfilment offer will not suffice on its own if the product range fails to drive the customer to the checkout in the first place."
But if Amazon does get over this hurdle by adding the right brands and product types to its mix, and presenting them in an appealing way, then larger fashion retailers may need to start taking more notice.
"If they can get the right brands and build up fashion credentials it could be very impactful," Berg confirms. "And Amazon is notoriously successful when changing shopper behaviour."
Amazon has already changed the game when it comes to same-day and next-day delivery and the rest of retail has been forced to adapt.
Try-before-you-buy could be similarly revolutionary: it could change consumer expectation beyond recognition, meaning that other retailers may need to play catch up later down the line.