Warm weather last week hampered John Lewis' fashion sales, but ice cream and strawberries did brisk business at its sister chain Waitrose.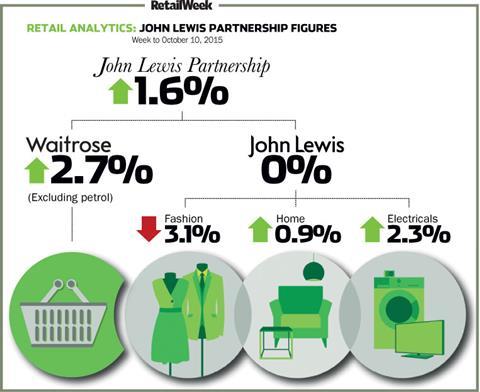 John Lewis fashion sales slide 3.1% as customers avoid winter gear
But strawberries rocket at Waitrose
Reusable carrier bag sales up 126% in wake of plastic bag levy
At John Lewis sales of boots and outdoor wear were hit, leading to an overall 3.1% dip in the department store's fashion division. It was also set against last October's cold snap.
However, the unseasonable weather meant sales of strawberries at Waitrose jumped 45%, while ice cream sales rose 5%. Sales of gateau jumped 15% leading the retailer to suggest it is making a "comeback".
The rugby World Cup also boosted Australian and South African wine sales by 38% and 19% respectively, according to the grocer.
Waitrose also revealed that sales of reusable carrier bags rocketed 126% last week in the wake of the plastic bag levy.
And its customer loyalty discount scheme, Pick Your Own now, has 850,000 myWaitrose card holders signed up.
At John Lewis, sales in its home division grew 0.9% last week, with furniture up 6.2%. Electricals and home technology were up 2.3% year on year.
Overall John Lewis sales were flat on the same period last year, while Waitrose sales rose 2.7%. For the John Lewis Partnership as a whole sales were up 1.6%.