Footasylum has announced plans to expand its presence in the UK this year, with the opening of new stores and the upsizing of existing stores, following a "notable increase in demand for womenswear".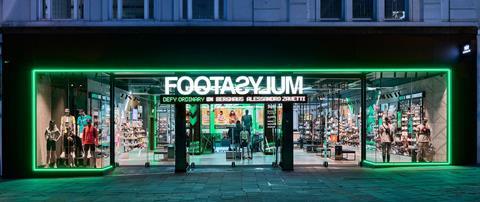 Footasylum also attributed its boom in demand to the "continuing strength of its branded streetwear offering".
The sportswear retailer has revealed plans to open a 6,000 sq ft store in the Atria Watford shopping centre, bringing Footasylum's store estate to a total of 60.
Footaslyum also said it plans to welcome shoppers to a "high-profile site" in central London and that it will reveal other new store locations in due course.
The retailer confirmed upsizing plans for its stores in Westfield Stratford City, Leeds White Rose and Lakeside in Essex, providing shoppers with a larger store and a "comprehensive" men's, women's and kidswear offering.
The expansion plans follow the opening of one of its stores in Cheshunt, Hertfordshire, last December, which marked the first new store opening under its new owner German investment group Aurelius.
Footasylum chief executive Barry Bown said: "We have exciting plans to develop even bigger and better stores to cater for the growing demand for our brands.
"Our expansion plans will help ensure that our extensive product offering is given greater prominence and availability across the UK."