On the morning that House of Fraser revealed it was to close half of its stores there was at least cheer for one retailer.
Lifestyle retailer Joules, known for its quirky clothing range, increased its profit expectations for the year after group sales jumped 18.4% to £185.9m for the 52 weeks to May 27.
But while many of its competitors are struggling, how does the Leicestershire-based company manage to outshine even its own forecasts? Retail Week outlines five of the reasons why it is bucking the retail doom and gloom:
Distinctive design
When founder Tom Joules began selling clothes at outdoor events more than 25 years ago, he wanted to focus on creating bright and colourful products.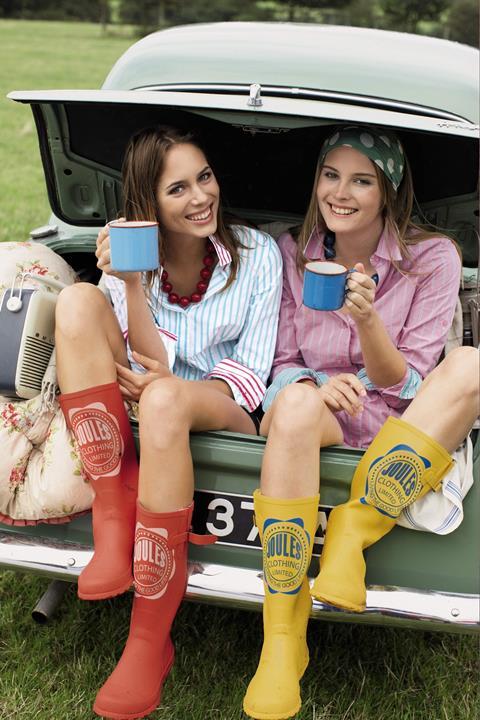 Testament to his original ethos, Joules has managed to create a distinctive brand known for its bold colours – say, a yellow anorak – and its fashionable prints. Its bold patterned wellies are instantly recognisable and brighten up customers' wardrobes.
Joules is now as known for its unique designs as it is for its quality and durability. Together this has created a loyal following that many brands can only dream of.
Joules chief executive Colin Porter said its strong results were "testament to the strength and appeal of the Joules brand and our distinctive products".
There's something for everyone
Walk into a Joules store or browse online and it isn't just a brand targeted at one demographic. Its products span across womenswear, menswear, childrenswear, and baby clothes, ensuring that there's product in there for all the family.
So when mum or dad walk in, they can find something for themselves, as well as a new outfit for their two-year-old son and perhaps a raincoat for their partner.
With overall fashion sales across the retail industry taking a battering, Joules has diversified and branched out into homewares, so anything from a picnic set to bedding can be bought from stores or online, enabling additional revenues to be made.
Buy now, wear now
For many years, retailers would often start selling the next season's clothes weeks (if not months) before the current one had ended.
Chunky coats and knitwear would start appearing on the rails in August and September, even in the midst of a heatwave. In the freezing winter months, these items would be removed from shop floors only to be replaced with spring items like T-shirts and sandals.
Some retailers such as Joules have changed their strategy, providing more transitional items and clothes that customers want to wear now, rather than hide in their wardrobe for two months or be left unloved in stores until the weather turns.
"We've invested a lot in fast turnarounds," founder Tom Joules told The Independent two years ago. "We look at things slightly differently to the market and offer clothes for now – to be worn today."
And in today's results Porter said its 'buy now, wear now' products helped it beat expectations.
A selective approach to discounting
In recent years many retailers have tried to wean themselves off the drug that is discounting.
Many ex-discounting devotees – like Debenhams and House of Fraser - have seen their strategies backfire, with many customers only shopping with them when the big Sale signs are hoisted up.
Rather than a seemingly all-year-round Sale strategy like some retailers, Joules has a more slimmed-down and tactical game plan, focusing on key times of year such as Christmas and end of the summer.
Gross margin has improved as a result of the higher proportion of full-price sales.
"We are not offering too many random promotions," Porter told The Telegraph last year. "That is particularly important for us as a brand rather than a high street retailer, as you will find us in department stores and what they do not want to be doing is buying into a brand that is discounting every other week."
He added: "We tend to target any offers that we do to our loyal customer base, so we make that offer unique to them."
In January, the company said gross retail margins were expected to be in line with expectations over the festive period because it maintained its "disciplined and selective approach to promotional activity".
A strong wholesale strategy
Instead of just relying on sales through its stores and website, Joules runs a very successful wholesale strategy, with the lifestyle retailer reporting today that revenues through the channel had increased by 24% on the prior year.
Joules has managed to secure more than 1,500 stockists worldwide – exposing the brand to new customers and giving existing fans another place to buy into the brand.
Late last year Joules revealed plans to develop wholesale relationships with online marketplaces Amazon and Zalando. At the time, Porter said the partnerships would give the brand insight into future growth opportunities.
An area they keep investing in, expect to see sales continue to boom in the future.