Despite the troubles plaguing the fashion sector amid the coronavirus pandemic, Next boss Lord Wolfson remains surprisingly upbeat about the future of the business. Retail Week finds out why.
Next will be profitable this year
Next made a small £9m profit in its first half, but has raised its full-year guidance from the £195m it expected in July to £300m.
Wolfson has forecast three potential scenarios for its second half. Even in the worst-case scenario, which includes a second nationwide lockdown, sales would fall 34% between now and the end of its financial year, but pre-tax profit would come in at £110m.
"The first half has been much better than we could have hoped in March," he explains. "The company has made a small profit, but the fact that we've made a profit in the first half isn't really important.
"The most important thing for us is that in all of our scenarios – the upside, central and downside – the group will be profitable and the balance sheet will end the year stronger than we started."
Next is placing its bets on a middle-ground scenario, in which sales would decline 8% year on year during its second half and 20% across the full year. This would result in a £300m pre-tax profit.


It is pouncing on new opportunities
Next has used the time in lockdown to pounce on new business opportunities, getting creative and collaborating with new partners.
It has finalised a joint venture with L Brands to take over the UK arm of Victoria's Secret, including 18 standalone stores.
Next will also stock the lingerie brand's products in some store concessions and is planning an overhaul of its online offer.
"We're seeing much faster development of new opportunities than we would've expected at the beginning of the year"

Lord Wolfson
The retailer has also developed its Beauty Hall concept and has signed for four stores in Watford, Milton Keynes, Gateshead's Metrocentre and Reading, with another two sites in the offing. The chain will open in October and will also house Next Home products and a selection of women's accessories, lingerie and gifts.
The retailer is open to new business ideas as well – and Wolfson says the pandemic has accelerated this part of its operation.
"We're seeing much faster development of new opportunities than we would've expected at the beginning of the year," says Wolfson.
"That's partly a result of the impetus the pandemic has given us, and partly because of a result of us being more open-minded, and potential partners being more open-minded, about the kind of collaborations that we can do."
Wolfson has clear criteria detailing what Next looks for in new business ideas. They must create value for customers and clients; play to its strengths, assets and expertise; make a margin commensurate with the risk; and make a healthy return on capital.
However, he is clear that any new project must not detract from the Next brand and, using an alcohol-themed analogy, vows that the froth will not take precedence over the beer.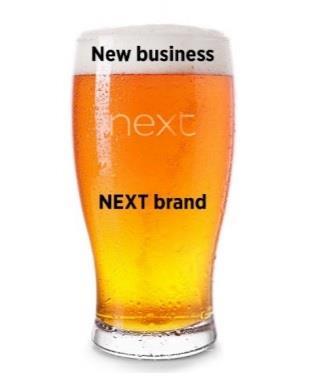 Wolfson is building the Ocado of fashion
In a bid to boost its online credentials, Next has used the last six months to perfect its Total Platform model, which enables it to host and operate the websites of third-party brands.
It launched its first ecommerce platform of that ilk two weeks ago for Childsplay Clothing, an online retailer specialising in luxury branded childrenswear.
Total Platform clients pay Next to operate their brand's website and online fulfilment, including elements such as website systems, warehousing, distribution networks and returns handling. That leaves the brand itself with time to focus on building its identity and product ranges.
The new technology will also be used to run the new Victoria's Secret UK website.
When asked if the strategic shift to license its technology and fulfilment expertise would position Next as the Ocado of fashion, Wolfson was coy.
"We never make grand predictions about the future," he says. "The way we start new businesses is to see how they go, do as good a job as we can. How many people choose to take up that service, we have no idea. In 10 years' time, it might be an enormous business, but it might be a very small business.
"It's the same answer I would've given Retail Week 10 years ago when we started our Label business. We would never have said: 'We're going to have a £500m business selling other people's brands on our own website' and we would never have said: 'We're going to have a £500m business overseas online' when we started that.
"Our job is to push that business as hard and fast as we can, and do as good a job as we can. If we do a good job, we stand every chance of making it into a very exciting business."
Christmas will not be a washout
Wolfson refuses to be "doom and disaster" about the coming months and the prospect of spending Christmas in lockdown. He does, however, concede that more turbulent times lie ahead.
"While sales in the next half won't be as good as in the past 13 weeks, we are not in a position where we're worried about the company's stability over the next six months," he explains, reiterating the fact that all of its financial scenarios result in a profit.
However, he thinks that the 'rule of six' – the latest government rule that limits social gatherings to no more than six people – means customers are likely to buy fewer party outfits and gifts for others this Christmas.
"When you're seeing people, you inevitably buy more gifts than when you're not seeing people," Wolfson says. "That will affect that trade going into Christmas. But we think it will be -12%, not worse than -12%."
Although he acknowledges that a lack of office Christmas parties will impact dress sales, he also points out that the business is geared up to do well on bestsellers such as knitwear and outerwear.
He explains that Next's autumn/winter occasionwear business is much smaller than in spring/summer, when events like proms and weddings take place.
"The things that we sell well in the run-up to Christmas are things like knitwear, and coats and scarves, hats and gloves. The demand will still be there for that, whether there are increased lockdown restrictions or not," he insists.
Online sales remain strong
Next's already strong online proposition – ecommerce accounted for just over 50% of total sales pre-Covid – has grown exponentially during lockdown, continuing to rise even after stores reopened.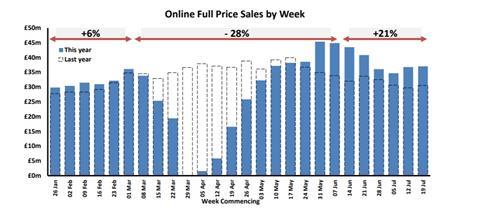 Since May, online sales have been above pre-pandemic levels, a trend Next attributed to fewer people travelling abroad for holidays and the reluctance of some consumers to return to bricks-and-mortar stores.
Wolfson believes that online "habits are likely to stick", with those that were less accustomed to shopping digitally now converted. He says Next is well placed to capitalise on those new behaviours.
"In some form or another, we think it will have accelerated the structural shift away from high streets and shopping centres to online," Wolfson says, though he remains insistent that there is a place for stores in Next's future, even if they are less profitable this year.
Store costs are coming down
Although store sales have yet to fully rebound at Next, the retailer is benefiting from lower store costs and, during lease negotiations with landlords, has reduced rents by 50% on average so far this year.
With 60 more store leases up for renewal this year, Next expects to shave £9.9m a year off its rent bill.
"The fundamental resetting of rent expectations happened long before Covid. It's certainly exaggerated the trend"

Lord Wolfson
Wolfson says retail rents have been reset over the past few years, but admits that the pandemic has accelerated that trend.
"The fundamental resetting of rent expectations happened long before Covid," he says. "For the last two years, we've seen rent reductions of around 30%. It's certainly exaggerated the trend and negotiating rent renewals during the pandemic was an environment that was very much in the retailer's favour.
"The [rent] decline we might have expected in two years might have gone into one."
Retail parks are resilient
Across retail, sales made through stores remain down on pre-pandemic levels, but retail parks have proven more resilient than other destinations.
The same is true at Next – and the retailer's dominance in such locations has protected the business from the impact city-centre-based operators have suffered. Last year, 62% of Next's retail sales came from retail park stores, compared with just 27% from its city-centre shops.
Amid the consumer reluctance to spend time in crowded locations, retail park shops "where customers can park and walk straight into relatively spacious stores have performed much better", Wolfson says.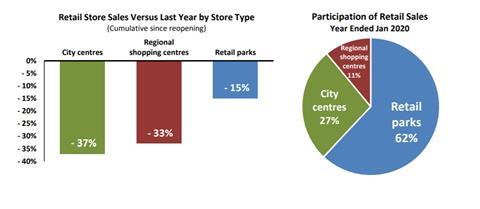 There are better ways of working
Like many companies, much of Next's workforce has shifted to working from home since the beginning of lockdown. Rather than lamenting the change, Wolfson sees it as a positive, driving more efficient working practices and setting the retailer up for a flexible future.
"The experience of having to work from home has opened our eyes to new and better ways of working, collaborating and communicating among ourselves and with our suppliers," he says.
In warehouses, social distancing has forced the team to spread work as evenly as possible over 24 hours and brought new efficiencies. It has also led the retailer to question whether stretching out next-day delivery cut-offs to midnight is actually worth the cost.
After taking advice from Dixons Carphone boss Alex Baldock, Wolfson made changes to its call centres so agents could take calls at home. He says this could lead to longer-term changes to create "more flexible, convenient and enjoyable ways of working, making it easier for the business to recruit and retain staff while enhancing our ability to flex up work when we experience spikes in call centre demand".
"We have empowered individuals and small teams to make decisions outside the corporate machine. For many, this has been liberating"

Lord Wolfson
Wolfson also highlights that buying teams have become better at making quick decisions, rather than waiting for trips abroad, and have been in more regular contact with suppliers through video calls.
"Decisions have been made on the spot, rather than being 'saved up' for trips or selection meetings. At best, these new ways of working have engendered independence of action and creativity, and stimulated innovation," he says.
"We have had to let go of some of our time-honoured product selection processes – with all their checks and balances – and we have empowered individuals and small teams to make more decisions outside of the corporate machine. For many, this has been liberating and the best people have increased and improved their creative output.
"With hindsight, it appears that the corporate machine was supporting the inexperienced and the less able, but holding back the strong."
Wolfson plans to use the lessons learned during lockdown to establish better working practices across the business, understanding what works best for each individual and team.
In a retail sector that is shy of good news stories right now, Wolfson's dose of optimistic realism is much needed. There are some bright spots that all in retail can take heart in.