October like-for-like sales slip 0.2%
Total food sales flat in the month
Online sales of non-food products slow
Prospect of Black Friday this month blamed
UK retail sales fell slightly last month as consumers appear to be holding out for Black Friday.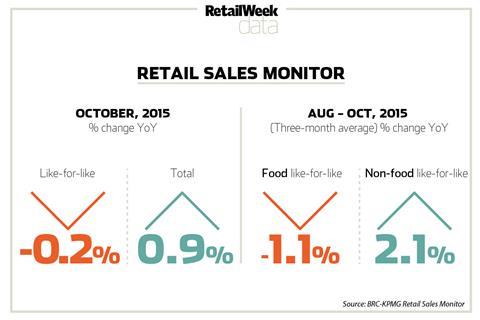 Like-for-like sales in October slipped by 0.2% from the same month last year, latest BRC-KPMG figures revealed. On a total basis, sales were up by 0.9% compared with a 1.4% rise last October.
Total growth was below the three-month average of 1.8% and the 12-month average of 1.9%, as retailers reported that Halloween falling on a Saturday had a negative impact on shopping and popular Black Friday categories experienced a slowdown.
Food flat
Total food sales failed to benefit from England hosting the Rugby World Cup, largely due to England's early exit, and year-on-year sales over the month were flat.
However, total food sales are up 0.5% on a three-month rolling average and 0.3% over a 12-month rolling average.
Joanne Denney-Finch, chief executive of food and grocery research firm IGD, said deflation "continues" to dampen figures in the grocery category and consumers are "cautious" about spending on food and drink as they do not expect food prices to fall further.
Non-food like-for-like sales slowed from around 6% in September to 1% last month.
Online sales of non-food products rose by 9.2% over the month compared with a 15.4% rise for the same period last year. Online sales are also down slightly on the three and 12-month averages.
Helen Dickinson, chief executive of the British Retail Consortium, admitted October had been a "somewhat disappointing month".
She added: "A number of categories which we'd typically expect to be popular on Black Friday saw a slowdown in October, suggesting that some shoppers may be holding out in the hope of some great deals at the end of November."
Electricals retailers are already trying to counter the difficult month with attractive offers and deals, however the emergence of Black Friday is causing uncertainty about how to approach promotions, especially on items such as TVs and laptops, during October.
Furniture was the top performing category once again with retailers noting better growth in downstairs furniture than upstairs, in anticipation of Christmas.
It is also the best performing category on a three-month and 12-month basis. Home accessories also did well thanks to Halloween decorations and fireworks, and the launch of some Christmas gift ranges.
Clothing reported a slow start to the month but it has shown growth in total sales and like-for-likes across all segments.
This was driven by longer mid-season Sales and deeper promotions as mild weather stopped consumers buying coats and outerwear, but it has had a negative impact on margins. Menswear was the best performing segment.
The unseasonal weather also impacted on footwear, which had a disappointing October. Despite promotion costs coming in higher than last year, Sales did not perform as well as the same month last year, particularly in boots and wellies.
Jewellery and watches was the only category to show more growth in October than September, which is seen as an encouraging sign ahead of the festive season.
David McCorquodale, head of retail at KPMG, added: "Looking ahead, retailers will be keeping a close eye on the Autumn Statement at the end of November in the hopes the Chancellor extends relief on business rates. The tactics around Black Friday will also reveal who has the strength to play yet maintain margins."