Fashion spending will decline over the next four years as online players continue to win share from legacy retailers.
UK consumer spend on clothing and footwear will drop from just under £35bn to just over £30bn in the period to 2023, according to Moody's. It has dropped steadily since the recession, at which point it had hit just over £45bn. That amounts to a drop of approximately one third.
Over the decade since the recession, the UK high street and online environment has transformed as players such as Arcadia and New Look, both of which have been forced to complete CVAs to stay afloat, have proved vulnerable to more agile online competition and the buying power and vertically integrated business models of global giants such as Inditex.
Divergent fortunes
While overall consumer spend has dropped, there are industry winners and losers both increasing and losing share of that diminishing spend. In big picture terms, internet players will win market share from legacy retailers, rising from 27% at present to almost 35% in the next four years.
Across Europe, the top 10 online retailers' (including Amazon, Asos, Boohoo, Shop Direct and Zalando) combined market share has grown from approximately 0.5% in 2009 to around 7% in 2018. The top 10 legacy retailers (including Arcadia, H&M, Inditex, Next, Primark and TK Maxx) shared around 22% of the market in 2018, compared to around 16% in 2009.
By contrast, the 11th to 50th biggest multichannel retailers' share stagnated at approximately 12% over that period as middle market players struggle to hold their own against global conglomerates and online giants.
This shows a divergence between the fortunes of mid-sized legacy retailers and their larger, globe-spanning counterparts. While both groups have legacy operations and portfolios to contend with, global groups tend to have the capital available to invest in ensuring they are pivoting to a digital-first model quickly enough. This is evident in the slew of CVAs and restructurings undertaken by players including Arcadia, Debenhams, Monsoon and New Look.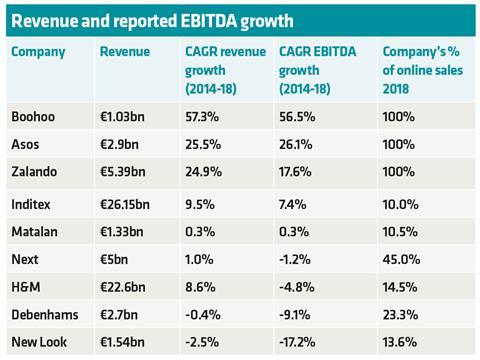 Mid-market retailers that have struggled the most in recent years include New Look, at which CAGR revenue shrank 2.5% between 2014 and 2018 and CAGR EBITDA growth shrank 17.2% in the same period.
Investment ability
Companies that have been seen as being relatively successful by the market but which suffered at an EBITDA level include Next, where CAGR EBITDA growth was down 1.2% despite CAGR revenue growing 1%, and H&M, at which CAGR EBITDA growth shrank 4.8% despite CAGR revenue being up 8.6%.
Both retailers have had to re-engineer their business models with Next's marketplace becoming ever more central to its strategy and H&M investing heavily in digital after falling behind the rest of its cohort.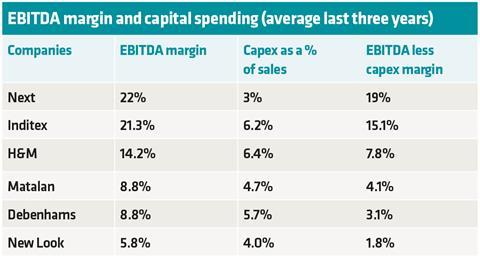 While every legacy retailer will have to invest to ensure it keeps up with the competition and ever-greater consumer demands, the ability of retailers to plough money into their businesses varies wildly.
Next and Inditex are among the retailers able to invest the most in their strategies with both retailers' average EBITDA margins far outstripping their capex as a percentage over the last three years. Debenhams and New Look are the least able to invest heavily over the coming years as their EBITDA margin and capex are more closely matched.
This trend is likely to become more pronounced over time. As the wider environment continues to be challenging, the gap between retailers able to invest and those with restrictions on their capital is set to increase – those without the money to invest in ensuring their businesses are fit for the future will find it difficult to survive the changing consumer environment.