Tuesday's announcement that first quarter clothing sales at Marks & Spencer were down by 6.8% – their worst trading results in four years – didn't make for easy listening.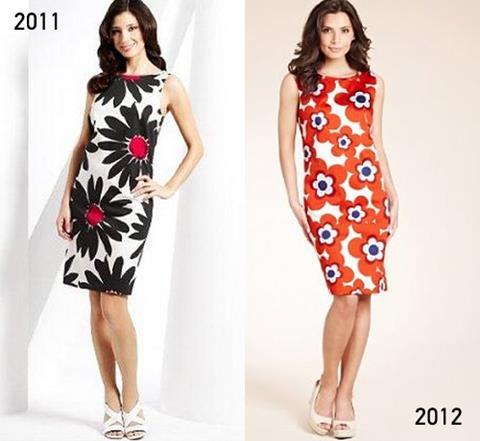 Tuesday's announcement that first quarter clothing sales at Marks & Spencer were down by 6.8% – their worst trading results in four years – didn't make for easy listening. The high street stalwart has long been a big physical and emotional presence for a large proportion of the UK. In their 128 year history, they've become a motif for home and family and quality. So what happened?
Chief executive, Marc Bolland, speaking on Tuesday, insisted the losses were to do with the unseasonable weather the UK has seen. But traditionally department stores are the high street retailers who benefit most from bad weather, housing a large offering under one roof. Moreover, rivals John Lewis and Debenhams have been reporting healthy week-on-week growth which leads to the suggestion that M&S's problems could be related more to their offering than weather fronts. Indeed, in April they admitted stock problems and the recent update confirms that whilst 105,000 casual jumpers sold, they could have shifted a further 60,000. Their food sector has seen positive growth, but while clothing still makes up nearly half of sales, stocking is something M&S really need to get a hold of.
Where it went wrong
It seems that M&S aren't spending enough time internalising their sales and using the information they have to make good decisions. They have product success stories, but aren't acting upon these successes in time to capitalise. A longline cardigan from the Per Una range, priced at £35 dropped on the 30th May and is now out of stock in 7 of its 8 sizes, with only one product left in that remaining size. Such a trans-seasonal and mid-range garment shouldn't be able to sell out: why was there little investment in it? Same again with the Indigo collection pure cotton plait knit cardigan, priced again at £35 and again out of stock in just over a month in six sizes. The product had 16 customer reviews online, a really simple metric for M&S to assess where they need to reorder. Another Indigo collection jumper, this time in crochet space dye and priced at £35 is left instock in sizes 8 and 10 only, having arrived at the start of May. M&S, your £35 knitwear sells, order confidently!
It's not just the simple stuff, trends are working too. Floral, the print story of the summer season, sold swiftly when executed well. A £25 floral print pleated dress which dropped instore on the 16th May sold out in all but one size (size 8, of which there is one left). Per Una's floral linen blend sleeveless dress at £45 dropped on the 25th April and the majority of sizes were sold out by mid-May. All sizes are now sold out, with no restocking having occurred.
But it seems that M&S are approaching trends without careful editing or consideration. Take the Limited Collection stripe burn out. Its luminous yellow shade ticks the neon box and shape pays homage to the dipped hem that we know has been selling so well – but selling at youth, fast-fashion retailers. The neon mini dress customer is probably not going to want to spend her £17.50 in M&S, she's unlikely to be passing en route to pick up her salmon en croute. Nor is there anything particularly Limited about the garment that's going to appeal to the more considered shopper, hence it having only sold out in one size (20) since arriving a month ago. M&S need to trust and apply the knowledge of their own customer, and use this to edit the trends they are being spoon-fed. Look at the data whilst picking the trends that inspire your designers and buyers!
We dug back into our commercial database to see the top sellers from M&S this time last year. Their Autograph abstract print dress at £45 sold fantastically, with the first delivery of four sizes selling out in just six days. It was subsequently restocked three times, never staying instock more than a week. So too, for the £69 Autograph prom dress, in a gorgeous painterly floral which would have been on-trend in reworked colours this season. It was online for only six days in May 2011. But where are the repeats this year? These garments worked, the sales data is there, re-do them! And then there are little slip ups like redoing a garment which sold badly last year – the garish slash neck floral shift dress from May 2011 was priced at £29.50. By the end of June, with stock not shifting they'd slashed the price to £19. Only then did it sell. Lesson learnt? Apparently not. The strikingly similar cotton floral a-line dress currently sits in stock at £35 awaiting it's own price slash. Look to the past and learn?
Product is the most visible and easily criticised layer of error, but dig a little deeper and you can reveal some core struggles. We looked at Marks & Spencer's price distribution of clothing in the last quarter, then compared it to that of John Lewis and Debenhams. What we found is really interesting: M&S are pricing erratically in comparison to their competitors. A normal pattern of pricing at a high street retailer would see product spreading smoothly through price points, teasing a £20 customer into the £30 mix and giving the retailer the chance to tweak prices without customers knowing their rigid price structures. Number of products would expect to trail off around the £55 mark, but good high street retailers then return with a smattering of high quality product lines at a higher price point, offering something aspirational. We don't see this at M&S whose pricing leaps and peters off, with very little above the £60 mark. M&S could probably do with smoothing their structure and upping their premium line investments. Not just any jumper, an M&S jumper…
We'd really love to see M&S stopping to look at the data and listening to the facts. Panic retail is uncomfortable to watch when the information is to hand.