Cath Kidston losses widen as it invests in growing its Asian business
International retail sales jump 20.2% to £55.3m
Overseas performance drives group sales up 2.4% to £118.5m
Cath Kidston's full-year losses have widened to £14.2m despite soaring international sales as it continues its expansion in Asia.
The fashion and homewares retailer said the loss after tax, which increased from £2.5m the previous year, was driven by "substantial investment" in marketing, staff and infrastructure, including a new distribution centre in Asia to support its growth in the continent.
The "significantly increased" operating costs also pushed underlying EBITDA down 36% to £16m in the year ending March 29.
But international retail sales jumped 20.2% to £55.3m during the year as its floral bags continue to prove popular in Japan. Cath Kidston's strong overseas performance helped push group sales up 2.4% to £118.5m, according to documents filed at Companies House.
"This has been a year of profound change for the company with unprecedented investment."

Kenny Wilson, Cath Kidston
The retailer opened 45 new stores during the period. It had 70 stores in the UK and 135 overseas at the year-end as its portfolio broke the 200-store barrier for the first time.
Cath Kidston has since acquired its Japanese stores from franchise partner Sanei International as part of plans to continue growing its business in the country.
'Profound' change
Chief finance officer Neil Harrington previously said that its Japanese arm could become as big as its British business because the Japanese economy is significantly larger and it has twice the population of the UK. Cath Kidston is poised to open its first store in Tokyo in 2016 as it presses ahead with those ambitious plans.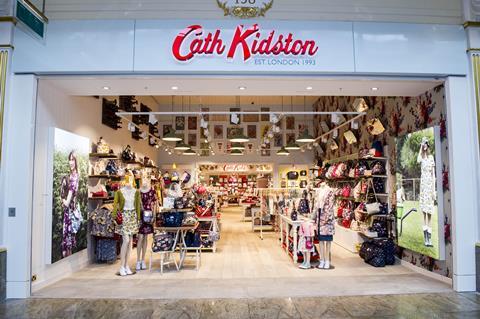 Cath Kidston chief executive Kenny Wilson said: "This has been a year of profound change for the company with unprecedented investment.
"We opened a new distribution centre in Asia and expanded our Hong Kong sourcing office. We have grown group sales despite a challenging UK consumer environment, whilst investing significantly in people, adding a new group commercial director and a general manager in Japan, together with further investments in marketing to support future growth.
"The rise in international retail sales is evidence of the success of the strategy to further globalise the brand. We are seeing rapid growth across Asia with 123 stores at year end in the region. We have broken into the important Middle Eastern market and see a lot more opportunity in the region.
"The acquisition of the Japanese business is a substantial investment in our strategy to grow further in Asia, with Japan being our biggest market after the UK. I am very excited about the coming year and our plans to grow the business even further."