Cath Kidston boss Kenny Wilson makes no secret of his global ambitions for the quintessentially British brand, even as the UK's split from the EU looms.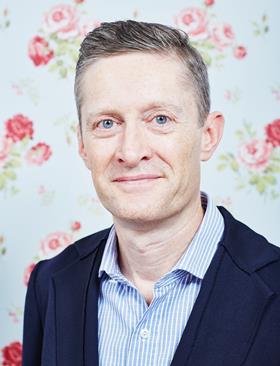 Since he took the helm at the fashion and lifestyle business seven years ago, the size of Cath Kidston's international division has doubled.
Despite having 225 stores across 16 countries, Wilson says it is far from at saturation point overseas and believes there are many more global opportunities to be found.
Speaking to Retail Week at the brand's flagship Piccadilly store, the Aberdeen-born chief executive says he is on the brink of sealing the retailer's next international ventures.
"It is unwise to just launch everywhere and dissipate your resources. It takes time and talent and training"
"There's two new markets where we're very close to signing deals," he says, adding that Cath Kidston "will open in three or four new countries" during 2018.
The firm's existing international presence has protected it from some of the pain inflicted on many retailers since the Brexit vote caused the value of the pound to plummet, its sales from abroad partially mitigating the deleterious impact on margins in the UK.
And last year's tourist boom also worked in the firm's favour, helping to bolster global brand awareness.
"After Brexit, we did see tourist boom in all of our London stores, and in York and Edinburgh, but that's annualised out now," Wilson says.
"Now we're getting more visits from Thailand, but less from the Middle East because of all the economic rules there. And lots of US visitors are still travelling here with a strong dollar versus the weak pound, and asking 'What is this cute brand?'"
Slow and steady
Wilson is excited about Cath Kidston's international prospects, and rejects the theory that the health of 'brand Britain' abroad has been badly weakened by Brexit.
But he's not in a rush. "I don't believe in flag-planting," he says.
"It is unwise to just launch everywhere and dissipate your resources. It's much better to spend time and energy nurturing and building each market up country by country. It takes time and talent and training."
He cites Japan as an example, explaining that, despite launching there a decade ago, the website is growing at 326% year on year.
The former Levi Strauss and Claire's Accessories executive claims "there's no real science" to expanding abroad.
"You need to believe that your brand will work in that territory, scope out the existing and potential demand, and do your research on the market and its infrastructure," he says.
So, using data from online traffic, the business is able to gauge brand awareness and map out where to open next.
"We could see sales growing in India and the Middle East before we launched there," Wilson says.
Keep focus in the UK
Global domination may be a priority for Cath Kidston, but Wilson is adamant that he "does not want to lose focus on the UK", where a fast-changing market and volatile consumer confidence are keeping retailers across the piece on their toes.
As ecommerce grows in popularity in the UK, Wilson says he is wary of opening too many stores and "over-saturating" the market.
But he insists that shops are not dead. "Some people want to buy in stores and some want to buy online. Shops just need to be more about experience," he says.
UK stores also act as an introduction to the brand for international visitors.
Wilson's big focus is to ensure UK stores are in high-footfall locations and attract tourists.
"We moved our Edinburgh store from George Street – where tourists never really went – to Princes Street, where they wander up on their way to the castle," Wilson says.
Bracing for Brexit
Cath Kidston's international business may have provided some buffer against Brexit, but Wilson admits the drag on the pound has taken the shine off what would have been a stellar couple of years.

In its last financial year to March 26, 2017, sales jumped 8% to £129m, driven by a 20% surge in overseas sales, and group EBITDA jumped 27.4% to £9.3m.
Wilson says: "Trade is pretty good, but if I didn't have a 15% drag on currency trade would be really bloody good, and I could spend on international expansion or creating more jobs.
"We're doing fine in a difficult situation, but we'd be doing a hell of a lot better if we didn't have Brexit"
"We can't pass the 15% devaluation on to our customers, so we have to eat that up, which puts pressure on the sourcing strategy and profitability. International sales give us a boost, but product costing more brings that down."
"We're doing fine in a difficult economic situation, but my personal point of view is we'd be doing a hell of a lot better if we didn't have Brexit," he concludes.
Noting the firm's "extremely supportive investors", Wilson appears resolutely positive about the future.
"It's exciting," he says. "We got into the markets we're nurturing early, so we've got a ton of runway. The business in Thailand has just taken off, and in India we've just scratched the surface."
At a time when some may accuse the UK of looking inward, Cath Kidston is showing how British brands can thrive on a global stage.