First there was Leicester City and the Premier League title. Then there was Donald Trump and the Whitehouse.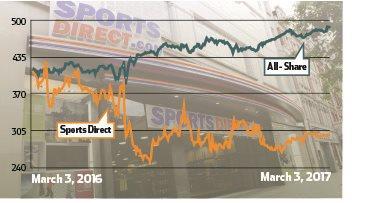 But today another unlikely pairing has been brought together in an attempt to steal the crown for most bizarre bedfellows.
Mike Ashley's pounce to snap up Agent Provocateur has placed the upmarket, premium-priced lingerie brand in the same stable as 'stack it high, sell it cheap' Sports Direct.
You would be hard-pressed to find two more contrasting customer bases.
But maverick Mike is pursuing a strategy to become "the Selfridges of sports" – and the acquisition should serve as a statement of intent that the tycoon is determined to fulfil that pledge.
Ashley is shifting his focus away from value brands such as Everlast, Lonsdale and Dunlop – the latter has already been offloaded by Sports Direct – towards more aspirational high street names.
He came within a whisker of snapping up Austin Reed after the formal menswear specialist slumped into administration last year and has taken an 11% stake in another struggling fashion retailer, French Connection, as he reshapes his retail empire.
Sports Direct also shelled out £108m on a prime property on Oxford Street for a flagship Flannels store which will stock premium labels including Versace, Paul Smith and Moncler.
In some ways, Ashley's entrepreneurial efforts to broaden his horizons and forge a new path for growth in a fiercely competitive retail environment should be commended.
His own house in order
But shouldn't he be getting his own house in order before snapping up luxury holiday homes?
There is no escaping the blunt truth that Sports Direct has been a walking PR disaster over the past 12 months or so.
Its use of zero-hour contracts, damaging allegations about working conditions in its Shirebrook warehouse and accusations of "spying" on MPs who visited the site last year have rocked both its reputation and its market cap.
The story hasn't been much prettier in stores, either.
Most shops are cluttered and untidy, customer service levels have fallen below par and the proposition has become confused as Ashley attempts to integrate categories such as fragrances into the existing offer.
In short, Sports Direct has lost its way.
Its share price has nosedived from 419.8p a year ago to 299.1p when markets opened this morning.
That fell away further to 295.8p at midday as the City digested the Agent Provocateur purchase.
It is almost certain that the relationship between the two retailers won't be close.
Shoppers are unlikely to see racy lingerie being stocked alongside football shirts and cricket bats in Sports Direct stores, given that Agent Provocateur was acquired by two separate entities and will be operated by Four Marketing.
But the fact that Ashley is increasingly focusing attention away from his core business is clearly a concern for Sports Direct shareholders.
Ashley should rekindle the public's love affair with the business that made his fortune instead of flirting with other retailers.