As both sales and profits slump for Boohoo amid the cost-of-living crisis in a highly competitive market, Retail Week looks at whether Boohoo can recapture its glory days in an era dominated by fast-fashion leader Shein
Despite Boohoo chief executive John Lyttle outlining the retailer's growth plans in its bid to return to profitability and his confidence in the brand's "outstanding value and great experience" for customers, Boohoo isn't the only pureplay with growth plans in the pipeline.
Given that Shein, Boohoo's biggest rival, posted annual revenue of $22.7bn (£18.8bn) last year and predicts revenues will double by 2025, we explore if Boohoo's reign is over or if the Manchester-based brand can revive its fortunes.
Price vs loyalty
Lyttle says Boohoo is continuing to invest to "improve customer lifetime value" but has it got its priorities wrong?
While Boohoo may pride itself on value, Shein is currently winning the war on price, which is resonating with savvy shoppers amid the cost-of-living crisis.
Retail Week senior retail analyst Kate Doherty says despite Shein's edge on price, customer loyalty remains vital for shoppers in the long term.
"Customer loyalty and fast fashion do not traditionally go hand in hand, with promiscuous consumers chasing the best price for their latest fashion fix. But as a sense of tribe is becoming increasingly important to young shoppers, Boohoo could benefit from a loyalty programme that makes its consumers feel like part of a community, as well as delivering on value.
"Shein has raised the bar in loyalty, creatively engaging with consumers through a generous, points-based rewards system that incentivises shoppers to publicly reinforce its brand, for instance by posting pictures and reviews, while Boohoo appears to rely on low prices and discounts to keep its customers coming back," she says.
As long as Shein keeps winning on both price and loyalty, Boohoo is likely to continue its downward spiral. A Boohoo loyalty shake-up may be just what the fast-fashion giant needs to recover its sales.
Growing its offer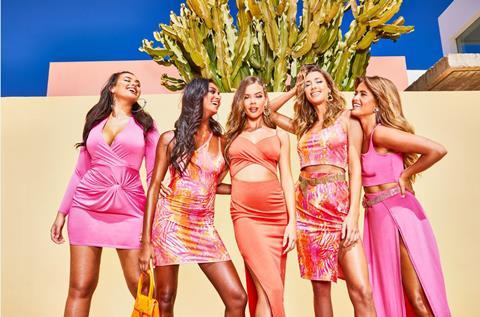 Boohoo said in a statement that it offers customers "unrivalled choice" with up to 4,000 new product lines being added weekly across its brand portfolio, yet it continues to chase Shein when it comes to the scale of its product offering.
RBC Capital Markets research analyst Wassachon Udomsilpa says Boohoo's current offering is not as broad as Shein's, reducing its competitive advantage. However, its plans to reduce lead times will enable Boohoo to offer shoppers more relevant products at a faster speed and offer customers better choice in future.
As well as this, Udomsilpa says Boohoo has yet to tap into product categories beyond clothing and beauty.
She adds: "Shein's offer has other products that are not clothing and beauty, so that is potentially driving more traffic to Shein while Boohoo is not currently offering homewares."
Despite its efforts to provide customers with choice and give them "even more reasons to shop" at Boohoo, the online fashion giant will need to identify any gaps in its offering in order to win back and attract new customers.
Social success
While Boohoo has 13 million Instagram followers and 1.3 million TikTok followers, Shein triumphs again as a social media sensation with more than double the followers on Instagram and more than fives times the followers on TikTok, at 28.8 million and 7 million respectively.
Boohoo is falling behind online and needs to identify this as an area of weakness if it is going to succeed in a turnaround against the competition.
GlobalData apparel analyst Louise Déglise-Favre believes Boohoo needs to focus on its marketing and social media if it wants to compete with Shein in the social media sphere, and showcasing its sustainability efforts could give it the boost it needs.
"Boohoo needs to refocus its marketing on a few more collaborations, as it hasn't really done anything as exciting in the way that Shein has," explains Déglise-Favre.
"Shein's collaborations are all over social media. They are everywhere on TikTok with all the people doing Shein hauls, whereas Boohoo hasn't really tapped into that.
"Also, if it is slightly more sustainable than Shein then maybe marketing that would be a good idea. It needs to be careful not to be called a hypocrite but at the same time, Shein really does have its problems surrounding its manufacturing and its supply chain, so if Boohoo is a bit more transparent and does market that, it would help."
Detrimental distribution
As the expectation from online shoppers has grown since the pandemic, fast delivery times have become an essential element of customer satisfaction.
Aside from low prices and a vast product offering, one of Boohoo's biggest battles is Shein's competitive edge when it comes to distribution.
Déglise-Favre says shoppers may be leaning away from Boohoo, particularly in the US, as a result of long wait times for deliveries: "Boohoo is planning to open a distribution centre in the US, which is going to help it massively to become competitive in terms of delivery times and lead times."
As well as localising distribution, Déglise-Favre adds that ensuring customers are aware of where the products have been made could be a point of appeal to many consumers who have problems with shopping for fast fashion.
Alongside other fast-fashion pureplays, Boohoo's battle to return to profitability continues. If it can address its areas of weakness and take a leaf out of Shein's book, the glory days may not be over.