Andy Bond backed fashion retailer Pep & Co has chosen Kettering to open one of its first stores.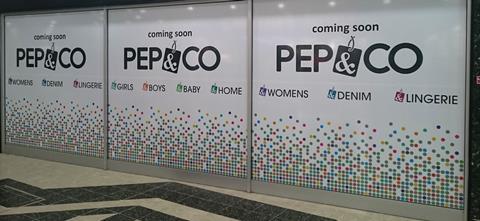 The 4,000 sq ft shop, which will stock menswear, womenswear and kidswear at the value end of the market, will open in the Newland Shopping Centre in Kettering this summer.
The retailer hoisted up a sign at the shop (pictured) this morning, revealing its new logo and branding for the first time.
The store will be among the first of about 50 stores that Pep & Co will open within two months of its launch in mid-July.
The retailer, which is set to take on the supermarkets and value players such as Primark and Matalan, hired property agent Savills to lead a search for 3,000 sq ft to 5,000 sq ft high street stores in secondary towns.
Backed by South African retail tycoon Christo Wiese, Pep & Co has an experienced management team with former Asda boss Bond and Adrian Mountford, Adrian Mountford, ex Sainsbury's and Matalan, leading the charge.