Zara owner Inditex swung back into the black during its second quarter, despite the ongoing impact of the coronavirus pandemic.
The Spanish fashion conglomerate, which also owns brands including Massimo Dutti, Bershka, Pull&Bear and Oysho, posted a net profit of €214m (£194.7m) during the three months to July 31, compared with a €409m (£372.1m) loss the previous quarter.
Retail Week analyses how Inditex beat the fashion blues to return to profit.
Store recovery
Inditex says its performance reached a "turning point" during its second quarter as it laid foundations for "a return to normal trading conditions".
This was underpinned by the reopening of its 7,500-strong store portfolio across 96 international markets.
The group said 98% of its shops are now open and store sales are "recovering progressively".
Inditex was able to reopen stores in countries such as Spain, Germany and France before those in the UK, which remains behind many nations on the coronavirus curve. The fashion giant's recovery on these shores is likely to take a little more time as a result.
At the height of the pandemic back in May, Inditex shut 87% of its stores, but shoppers are now returning despite social distancing restrictions.
Inditex pointed to the "differentiation" and digitisation of its physical locations as playing key roles in convincing consumers to go back into its shops, as its €308m store optimisation programme bears early fruit.

Many of its shops have started using RFID technology to allow customers to "click and find" the items they are looking for, while shoppers can also reserve fitting room slots in some stores, offering new, quicker and safer ways to shop amid the coronavirus crisis.
Inditex says it "remains very active" in differentiating its store spaces and will press ahead with what it calls "highly prominent projects" in the coming months, despite the growing penetration of online spend.
It is, however, closing around 500 stores, as it focuses on consolidating its presence in key city centres to one larger store, rather than several smaller ones.
Such flagship destinations will provide Inditex with greater capacity to offer digital experiences that its customers demand in a post-coronavirus world.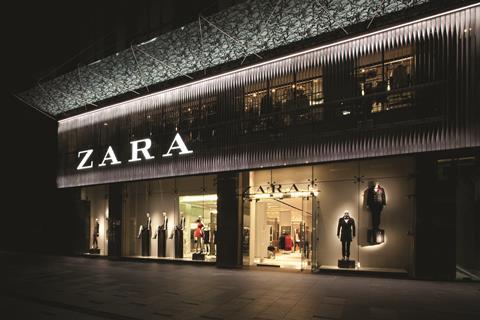 Online expansion
The proportion of spend going through digital channels has skyrocketed during the pandemic and Inditex has capitalised on that rapid online shift.
The fashion titan's online sales surged 74% during its first half and have continued to grow "at a remarkable pace" since the end of July.
Inditex has invested time and cash in recent years to build a "single inventory position", integrating all of its stock into the same system. That has paid dividends during the coronavirus crisis.
"It was able to fulfil 'a big part' of its online order backlog by selling products located in closed stores, as empty shops essentially became micro-fulfilment centres overnight"
During April and May, Inditex's single view of stock meant it was able to fulfil "a big part" of its online order backlog by selling products located in closed stores, as empty shops essentially became micro-fulfilment centres overnight.
Chair Pablo Isla said earlier this year that "without our full stock integration, we would have not been able to have this significant online sales growth".
Future store openings will create what Isla calls "a high-quality digital, eco-efficient store and online platform", as physical locations "play a stronger role in the development of online sales due to their digitalisation and capacity to reach customers from the best locations worldwide".
Inditex's surge in digital sales was further buoyed by the launch of Zara websites across parts of Europe and South America. The brand started selling online in Bosnia-Herzegovina, Albania, Algeria, Argentina, Peru, Uruguay and Paraguay during its first half.
Since the year-end, Zara has switched on websites in Chile, North Macedonia, Montenegro, Tunisia and Andorra, and it will also commence selling online in four new markets later this month – Costa Rica, Guatemala, Honduras and Nicaragua – as it seeks to further expand its online presence.
Full-price focus
Unlike many of its competitors across the globe, Inditex has been able to maintain tight control of inventory and refrain from discounting too heavily during the pandemic.
Inditex's fully-integrated supply chain has allowed it to rapidly react to trends, meaning it has not been burdened by as much excess occasionwear and formalwear as some of its competitors, at a time when shoppers were not shelling out on outfits for social events.
Zara's app, for instance, reflects the switch in clothing spend to more comfortable styles in the way it illustrates its autumn ranges. Wide trousers and flat shoes are worn by models riding bikes and climbing fences, for instance, rather than focusing on smarter occasionwear.
Only buying ranges that it knows will sell through in the current climate and ordering stock in limited quantities – inventory levels were down 19% year-on-year – has allowed Inditex to focus on full-price sales and maintain higher margins than many of its competitors.
In its first half, Inditex gross margins stood at 56.2%, representing only a slight dip from the 56.8% it recorded during the same period last year.
As other fashion players scramble to clear excess stock at knockdown prices ahead of the crucial Golden Quarter, Inditex appears well placed to have a much merrier Christmas than some of its peers.