Value fashion powerhouse Primark is preparing to draw shoppers through its doors by wowing them with every weapon in its armoury when it reopens after the coronavirus emergency.
The retailer is confident it will win back shoppers with the strength of its reopening proposition, even though the process of getting stores up and running again is likely to be phased.
Primark parent ABF's chair Michael McLintock said in the group's interim results statement today that the timing of reopening stores "remains uncertain" and "the process of opening, once it begins, is likely to be complex".
The retailer reported: "The main uncertainties in the year ahead were considered to be the length of time for which the Primark stores will remain closed and the strength of their trading as they reopen.
"In this regard, the forecast has taken the conservative view that the stores will remain closed until the end of this financial year and their sales will then take some time to re-establish the levels achieved before their closure."
"We want to make a splash and we've got the wherewithal to do it; we'll be fresh and relevant for whatever season we open in"

John Bason, ABF
Primark has also modelled scenarios in which its stores remain shut until May 2021 and of stores opening and then closing again during the next 12 months. It concluded that "the cash flow consequences did not exhaust the financial headroom" available to the business.
ABF finance chief John Bason told Retail Week openings are anticipated to be country by country. Austria, where the government has already allowed some retailers to reopen, is a prime candidate to be first, and the Netherlands has also "made noises" about relaxing restrictions.
It is still uncertain exactly what measures – such as continued social distancing – may be necessary in-store when branches open again and, for that reason, Bason said he would welcome Primark reopening in Austria first. The retailer only has five shops there, so lessons could be learned in a manageable way and applied across the business as appropriate.
Primark's 'awe-inspiring' reaction to coronavirus crisis
ABF chief executive George Weston paid tribute to Primark's staff as part of a personal message accompanying the group's results.
Weston said: "ABF has been squarely in the path of this pandemic. At Primark, we have 68,000 of our people receiving furlough payments from governments across Europe, without which we would have been forced to make most redundant.
"From making sales of £650m each month, since the last of our stores closed on 22 March, we have sold nothing. One of the world's great clothing retailers is entirely shut.
"We have paid for in full and taken delivery of very large amounts of completed stock which we can't sell for now and we have established a fund that will ensure everyone in a vulnerable country who worked on a Primark garment, whether completed or not, is paid for that work.
"We are supporting suppliers with commitments to buy garments that are as yet unfinished. But not until shops reopen and we can place new orders will the economic hardship that Covid-19 has caused to all those in our supply chain begin to reduce.
"I am in awe of the Primark teams for their care, good judgement and immense hard work as they have managed this crisis."
As shops reopen and operating procedures become clearer, Primark aims to make a splash among shoppers. Bason said: "Even if the outlook is pretty grim, don't worry about Primark coming back because we will.
"We'll open with the inventory appropriate to the region and people are going to go 'Wow, good old Primark is back'. We want to make a splash and we've got the wherewithal to do it; we'll be fresh and relevant for whatever season we open in. We're planning for a ramp-up."
Primark does not trade online and the closure of its estate has come at a cost of £650m in sales per week. Bason said that, although Primark always "evaluates" possibilities, there has been no change in its current view about the possibility of an online offering, certainly in the immediate future.
He was confident high streets would continue to attract shoppers after the health emergency subsides.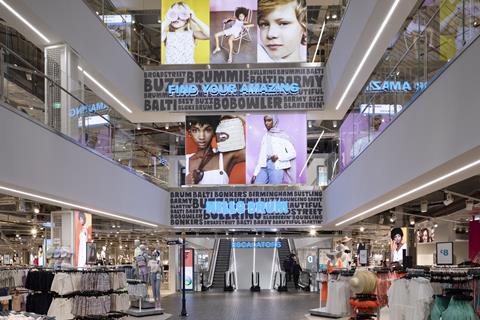 Bason expected that "people will initially be cautious about coming back", which is why Primark is determined to create "excitement" when it reopens. He maintained that Primark's large stores will give it an advantage in that respect.
Once lockdowns are over, he said: "I think we'll all be desperate to get out. I don't think we can expect deserted high streets to just go 'bang', but it will build up."
Primark may be suffering more than some because of its reliance entirely on bricks-and-mortar stores, but the retailer had a strong first half before the pandemic led to total lockdown.
ABF reported that over the period, Primark "increased market share, measured by value, in a weak UK market" and benefited from "strong performance from our buying teams, improved sourcing and tight stock management".
When Primark promises to come back with a bang, other fashion retailers will need to be on top form
Analysis: Primark's plan to 'come back with a bang'
1

Currently reading

Analysis: Primark's plan to 'come back with a bang'

2

3