Monsoon Accessorize boss John Browett reveals how he plans to drive growth at the fashion retailer after he pulled it back into the black in its 40th year.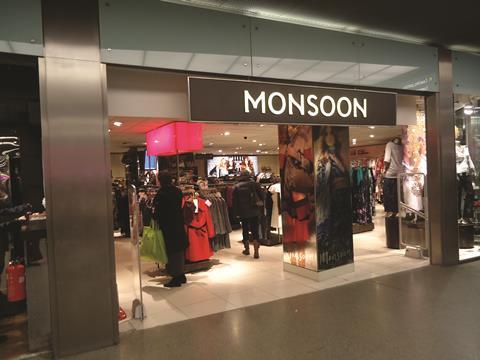 Monsoon Accessorize's financial performance seems to be returning to style. After a dreadful 2012 the retailer is back in the black as it refashions itself to reflect changing consumer habits while remaining true to its heritage.
Not even a full year into the tenure of chief executive John Browett, who joined the retailer in March last year, the group recorded a pre-tax profit of £18.1m in the 53 weeks to August 31, 2013. That compared with a loss of £2.4m the previous year.
Underlying group turnover advanced 4.3% to £551.9m in the period.
The contrast to the prior year – which Monsoon founder Peter Simon labelled the worst in the business' 40-year history because of tough trading conditions – could hardly have been more stark.
There is still work to do to return Monsoon to the numbers delivered in 2011 when pre-tax profit hit £66m and sales £650.7m. Browett says: "It is back on track but we have still got a lot to do."
His four-year strategy is based on five key points: releasing the potential of Monsoon Accessorize's international business; becoming a multichannel retailer; reshaping the store portfolio; improving stock management; and implementing better processes and systems. So, what do his plans involve?
Discounting was a key reason for Monsoon's poor performance in 2012. But with new and improved stock, the retailer held firm to a full-price stance last year, putting less stock on Sale and as a consequence improving profit margins. In the year to August 31, 2013 EBITDA surged 32.6% to £62.2m.
Browett says: "We got things back on track in 2013 primarily because we got more right.
"We had a nice long, hot summer and we worked on stock management so the summer Sale was much less. There was less markdown, which led to better profits. Margin recovered year on year. It was the main driver to the profit growth."
He adds that the creative team of designers and buyers is strong, and has helped make its product sought after again, by improving the quality but still ensuring it retails at competitive prices. "It wouldn't be fair for me to take the credit for product at all," says Browett.
But Browett did ensure the retailer returned to its DNA of unique designs and patterns that have a strong ethnic feel in the second half of the year. "The trick is to do it with a contemporary twist," he adds. "We're using our handwriting and patterns and shapes, which you will see when the spring/summer collection comes in."
Indeed, Monsoon Accessorize's look comes from its heritage of ethical trading, ensuring suppliers receive fair wages, employment rights and good working conditions, which it is still committed to today.
"We're growing incredibly quickly online – well in excess of the market growth rates."
Monsoon's offer is focused on the summer months. "It's very much a summer brand," says Conlumino group research director for global retail Maureen Hinton.
"It is aimed at the slightly older woman who wants to be more stylish. It has a very distinctive look but it ensures it has wider appeal with its occasionwear and kids offer."
Last week in its update the retailer said the Monsoon children's range has "steadily improved" over the past few years in the UK and internationally.
Estate rethink
Browett says Monsoon has been adapting its in-store ranging to react to customers' changing shopping habits.
"We used to have 37 stores with a full bridal range but we have cut this down to 15 because brides come into the destinations to see the range but then they go home and buy it online," he says.
"We're growing incredibly quickly online – well in excess of the market growth rates."
This response to its growing online offer means that Browett is rethinking the retailer's store portfolio. The retailer closed 44 stores in the UK in its last financial year, reducing the count from 399 to 355.
"There are a number of locations where we have been moving more Accessorizes into Monsoon," says Browett. "Overall the store count has come down a little in the UK but square footage is actually only down 5%."
Browett aims to scrap all standalone Monsoon stores over the next three years.
That will mean the retailer operates large combined Monsoon Accessorize stores and small Accessorize shops. At its last count the retailer had 93 Monsoon stores, 134 Accessorize stores and 116 combined stores in the UK.
Combining the brands is not a new idea. The retailer has operated dual stores in the UK for a number of years. But Browett says the retailer is responding to customer wishes. "Customers preferred the two stores together, sales were higher than if separate. And it allows us to reduce costs, with just one store manager and team," he says.
But he insists that the shift will not result in large-scale redundancies. Instead there will be a natural churn of people.
Browett says the stores are mainly on five-year leases and about 20% of leases are up for renewal each year.
The Accessorize business, which operates from a standard store size of 650 sq ft, although this is growing, will eventually trade from about 300 stores in the UK, including combined stores, up from 250 at present.
Retail Week Knowledge Bank analyst Wendy Massey observes: "They have a lot of joint stores already so it is an evolution.
"The price points are lower in Accessorize than in Monsoon, so Browett might be using it to drive footfall into Monsoon stores."
Hinton agrees: "The two brands complement each other because if you are buying something for an occasion you will top it up with some accessories. Combining the two will help Monsoon as Accessorize appeals to a much broader audience."
Integrating technology
Browett has also been working on fresh store designs and is piloting a new refit in the Accessorize store in London's Liverpool Street station.
It involves opening up the doorway and taking away traditional till-points and testing hand-held card machines to give the small shop more usable space.
"It's working really well," he says. "It has a much cleaner design and customers really like it. We're hoping to gain a number of these this calendar year. We want to do more testing."
The introduction of more technology in store will be crucial to Browett's focus on improving the retailer's multichannel offer.
Browett reveals he has been testing the use of iPads in his London Victoria store so customers can shop the full range online from inside the shop. He hopes to install iPads in another 10 stores and eventually to roll them out across the estate.
"I think we will have most of it in place in the next 18 months," says Browett. "We have a million people coming to our websites each week and not just to buy but to browse. So from our perspective people move between and a suite of technology products is key. We are a product company that happens to have stores. We can see [the way people shop] much more easily and this is one of the reasons we're restructuring the portfolio."
The new initiatives will help strengthen the click-and-collect offer that was introduced last year. Massey believes the offer could "really take off" this current trading year.
Browett hopes to export the ideas being piloted in the UK internationally – overseas is delivering strong growth and international sales surged to £83.5m from £62.6m last year.
Outside the UK Monsoon operates in 74 countries and opened five stores last year. It operates 1,047 overseas shops in nearby destinations including Italy, France and Norway and locations as far flung as Russia and South Korea. With so many destinations already reached, Browett says the focus will be on improving the retailer's penetration in each market.
"The big thing in each level is to have the best stores in the best mould in the best locations," says Browett. This will include rolling out the new store formats and refits internationally.
"International is very competitive and we have got to put our best foot forward with bigger, better stores," says Browett.
The US will be a key focus for Monsoon. Browett says: "There is a natural demand for our product in the US because what we offer is different."
Hinton says the US would make sense for Monsoon. "We are seeing European brands such as N Brown and Boden make big inroads into the US."
Monsoon also plans to launch more localised websites internationally.
It ships to 130 countries at present and has a number of local-language sites including for France, Germany and Italy.
Supply and demand
But with so much transformation at the front end, Browett is ensuring the systems can cope by improving distribution to fulfil orders and stock around the world.
"We have a lot of work to do end-to-end. We need to catch up with our international business growth," he says. Browett explains that the retailer has good core systems but they have been built to serve a UK business rather than a growing international empire.
Browett has brought in a strong team with him to help deliver his growth ambitions. He hired Jacques Vert commercial director John Bovill to head IT and ecommerce operations in July last year. That followed the appointment of former George at Asda and Marks & Spencer executive Kevin Rusling as international director.
Browett has had an impressive 11 months at Monsoon delivering growth in the retailer's 40th year.
His strategy looks like it should stand Monsoon and Accessorize in good stead for the decades to come.
Financials for the 53 weeks to August 31, 2013
Pre-tax profit up to £18.1m from £2.4m pre-tax loss
Group sales up 4.3% to £551.9m
Sales in UK and Ireland up to £468.4m from £466.7m
International sales up to £83.5m from £62.6m