When you're forced to buy back a hefty chunk of the jewel in your crown for just 76p, you know that something has gone horribly wrong.
This is the situation Sir Philip Green found himself in recently, having originally sold 25% of Topshop Topman to US private equity outfit Leonard Green in 2012 for a reported £350m. A lot can happen in seven years, it seems, including the decimation of over a third of a billion pounds.
The silver lining – if you squint hard enough – would be that Green has at least made a hefty profit on that transaction. But, as one industry observer puts it, it's quite the value destruction, isn't it?
Leonard Green's disposal of the stake for 76p, or $1, comes as Topshop Topman's parent company Arcadia scrambles to restructure by shutting stores and cutting its pension contribution by 50%.
Topshop's lack of relevance with the emerging consumer is dangerous and evident in its declining market share
Nevertheless, the decision to renege on the stake appears to have been a long time coming.
In 2012, Topshop Topman was planning a huge move – never to come to pass – into the US market, having ridden a decade-long wave of unbroken success in the UK. Topshop in particular was the destination of choice for a whole generation for everything from high-quality denim to a Kate Moss-designed tea dress.
When Leonard Green bought into the brand it was already well into its heyday – meaning the private equity firm perhaps paid an inflated price for its stake. While its struggles over the intervening years may have been difficult to discern at the time, seven years later, it's all too obvious.
Topshop's market share fell from 1.7% in 2014, two years after Leonard Green acquired a 25% share of the business, to a forecast figure of 1.3% in 2019, according to GlobalData – the year the firm relinquished its stake.
Topshop's market share peaked in 2009 at 1.79%, so the retailer held on to that share for a protracted amount of time before it began to fall.
Group sales were down 6% in the year to August 26, 2017 and it suffered a pre-tax loss of £10.9m.
Flogging a dead stable
Perhaps the most dismaying part of the 76p disposal does not relate to Topshop but to the rest of the Arcadia brands. If Topshop, which is still head and shoulders above the rest of the stable from a brand equity standpoint, has seen its value plummet so severely to a private equity vehicle, then how much value can the other brands hold?
"Some of those brands are moribund and not rescuable," says one source who believes Topshop "has some legs" but is far from excited by its prospects.
GlobalData analyst Sofie Willmott believes while other Arcadia brands such as Miss Selfridge could easily disappear from the high street, Topshop has a point of difference, which it has maintained over the last decade.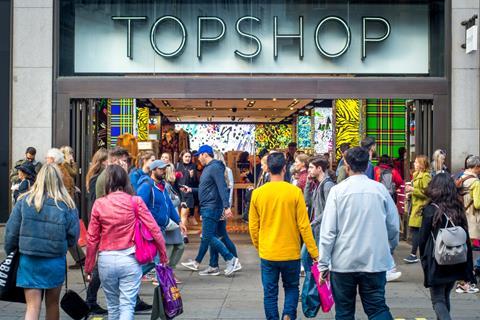 "It is a source of fashion inspiration and has held on to its focus on trends," she says, adding that high street competitors such as New Look have lacked the same direction.
She concedes, however, that many of its customers are older than its target market and have grown up with the brand.
Topshop has not successfully wooed Gen Z as it did the generation of teenagers who grew up to be millennials.
Since what value the business has is tied up in brand equity, this lack of relevance with the emerging consumer is dangerous and evident in its declining market share.
While many industry observers believe much of the Arcadia stable is in danger of passing the point of no return, Topshop should be able to leverage its brand equity to engineer, if not a return to its heyday, then at least an arrest in its decline. Market share could be easily won by selling via an online platform such as Asos, for instance.
Reputational damage
Green is also a factor in Topshop's continued misfortunes. While Arcadia chief executive Ian Grabiner has taken over much of the day-to-day running of the group, Green is still – despite his prolonged stay in Monaco – one of the most recognisable chief executives of any UK business.
The allegations levelled at Green of sexual harassment and racial abuse, denied by him, are unlikely to have substantially affected consumer behaviour – it is famously difficult to tell how influenced a consumer is by a business' ethics as there is a clear disconnect between what an individual says they care about and how they spend their money.
But those allegations will surely have made talent, especially young women who understand Topshop's target customer, think twice before joining the business – and investors who might otherwise be interested in funding a return to form for the fashion retailer.
This lifeblood is exactly what Topshop needs and what it is unlikely to get, so long as Green remains at the helm.