Not so long ago New Look was soaring above the market, with chief executive Anders Kristiansen hailed as its saviour.
In 2013 he was parachuted in following a turbulent time for New Look. Sales were floundering, there had been an exodus at its head office and with crippling debts looming large, many wondered whether the retailer could survive.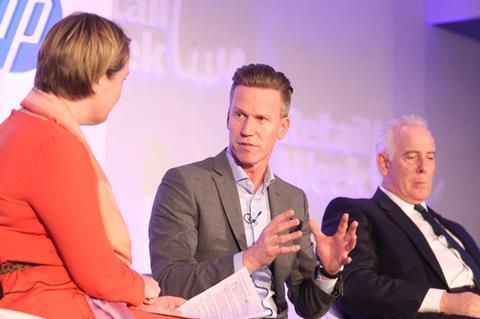 But wunderkind Kristiansen came to the rescue.
Under his tenure, New Look was posting market-beating results, and it caught the eye of South African retail mogul Christo Wiese, who in 2015 purchased a 90% stake in the retailer through his private equity vehicle Brait.
But the good times came to an abrupt end last year.
Like-for-likes slipped 6.6% in the year to March 25 while profits nosedived – a big deal for a retailer saddled with as much debt as New Look.
The problem was swiftly identified – its product. Trend authority had slipped and product was not stand-out enough.
And New Look had become overly dependent on repeating bestsellers, a strategy more suited to retailers with less trend-conscious customers such as M&S or Next.
"We are punished immediately by our customer if we don't have the latest trend," Kristiansen tells Retail Week.
"And that's regardless of whether we are in China, France or here – that is what customers expect from us. That's where we could have done a better job over the past 12 months."
Consequently, news of director level departures across the buying, merchandising and design division has come thick and fast in recent months.
Menswear director Christopher Englinde and footwear and accessories director Amanda Wain have exited in the last few weeks, while a round of redundancies in design last autumn saw head of design Steven Andrews and buying, merchandising and design director Emma Worley leave the retailer.
The Inditex effect
Kristiansen is putting plans in place to get New Look back into growth, and he's taking inspiration from Zara owner Inditex.
As revealed by Retail Week, he has hired two Inditex alumni. Former Zara Basic product boss and current head of Esprit womenswear Paula Dumont Lopez will join as chief creative officer in September. She takes over from Roger Wightman, who is leaving after 27 years to take on a part-time consulting role at New Look.
Next week design and trend consultant Rosa Gutierrez Sanchez arrives at New Look. She has spent the past year as Mango's womenswear director and formerly held a number of senior roles at Inditex. Hiring experts from Inditex could help New Look overcome Inditex's wholesale ownership of trends.
In his recent op-ed for Business of Fashion, venture capital firm Resonance co-founder Lawrence Lenihan, explaining how Inditex operates, wrote that small designers are "being crushed by massive, data-driven global supply chain companies that rob them of their creations and exploit the markets and trends they created".
His encapsulation of how Inditex functions explains not only how small designers are affected but how such companies spell trouble for other high street fashion retailers such as New Look as well.
The globalisation of trends, together with big data, has allowed Inditex's vertical integration model to flourish as never before – to the detriment of other fashion retailers.
And it's not just Inditex operating in this way. The proliferation of etailers, such as Boohoo and Missguided, is intensifying the problem.
It has left both high and low-end fashion retailers feeling the effects of a trend-hungry, impatient shopper, magnified at the youth end of the market, in which New Look's customer base mainly sits and where Instagram-reared millennials aren't prepared to wait for the high street to catch up.
Product is king
It's no wonder that Kristiansen is on the hunt for talent nurtured at Inditex.
Of Dumont Lopez he says: "She's great individual. She's very passionate, she's all about the product. She's been in the Inditex school and it's all about the product.
"I don't want products in my stores I don't love, I don't want filler product"

Anders Kristiansen
"To have a conversation with her I just love because she has the same passion for product that I have. And then she has that energy and that drive, the willingness to change things.
"That's what I've been trying to instil here. Don't ever design a product that you don't love, I don't want products in my stores I don't love, I don't want filler product."
Of course, the Inditex school is, Kristiansen admits, full of people who "come from a super well-oiled machine where they have only had success and nothing else".
It's why both Dumont Lopez and Gutierrez Sanchez have been recruited a few years down the line from leaving the Spanish giant.
"What I like about [Dumont Lopez] is that she has actually left, gone to Esprit, which is a challenged brand, and has done an amazing job. She has enhanced the basic product, transformed knitwear to be about quality and detail.
"What she has been missing at Esprit is being able to deliver that super fashion-forward product that she really loves. And that's what our customers come to us for."
Culture change
New Look is grasping the bull by the horns here by upping its trend game and it's a lesson of which other troubled fashion retailers should take note.
If you are in the business of youth-oriented fast fashion, you'd better be warming up for a long hard race or falling like-for-likes will soon reach your door.
Will this change of outlook and talent be the silver bullet that Kristiansen is hoping for?
There's no denying that New Look is in a bad place at the moment, as evidenced by its results. But what lies beneath is a relatively healthy business.
Its admittedly sizeable debt is being dealt with via advantageous refinancing, the store estate is largely profitable and its deep-pocketed owner remains supportive.
If the business is able to recover its ability to capture trends then it should be able to keep up with the competition once more.
Of course, whether any of that competition can thrive in the current market is a question for another day.