American Eagle Outfitters is pulling the plug on its UK business less than three years after touching down in Britain, Retail Week can reveal.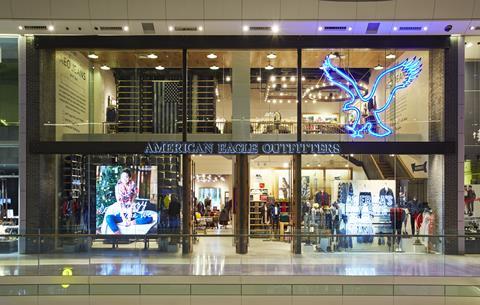 The fashion retailer has closed all three of its UK shops and is also understood to be canning its British ecommerce platform.
American Eagle shuttered its Bluewater store last week and has now also ceased trading in Westfield London and Westfield Stratford.
Sources close to the situation said American Eagle had decided to exit the UK after struggling to gain a foothold in the ultra-competitive fashion market.
Many of the UK's biggest fashion players including Next, Marks & Spencer and New Look have found trading to be turbulent amid rapidly changing consumer habits and increasing cost headwinds.
The business rates revaluation, the national living wage, the apprenticeship levy and rising sourcing costs following the fall in the value of the pound have all heaped further pressure on retailers across the sector.
Challenging fashion landscape
American Eagle opened its three UK stores within the space of a week in November 2014, with its debut store in Westfield London closely followed by launches into Westfield Stratford and Bluewater, in Kent.
It started its online business in the UK in September 2015 to help test demand and identify the best locations for a store roll-out.
At the time, American Eagle said it was targeting 20 to 30 UK stores, but it failed to expand its footprint beyond its initial trio of shops.
American Eagle chief executive Jay Schottenstein, who took the reins in December 2015, said in May that the retailer would be more aggressive with store closures as it grapples with the challenging fashion landscape in its native US.
The Pittsburgh-based business also operates stores in countries including Canada, China, Japan, Mexico, Egypt and South Korea.
American Eagle Outfitters could not be reached for comment.
Retail property agency Harper Dennis Hobbs, which was advising American Eagle in the UK, declined to comment.