The OC&C Emerging Retailer Trouva is helping independent retailers to thrive online and in the town centre, defying the 'death of the high street' headlines
Trouva's mission is to equip independent boutique owners with the latest technology and give them a competitive edge by connecting them to digital opportunities.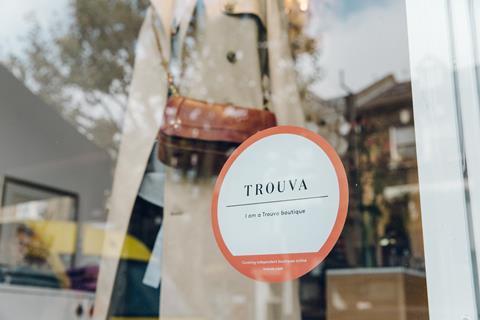 The judges were impressed by the thinking behind this fast-growing online marketplace which – in the face of 'death of the high street' headlines – is creating the opportunity for bricks-and-mortar businesses to thrive.
Trouva has more than 450 of the UK's best independent retailers signed up to its service, and has driven more than £100,000 in additional revenue for its top boutiques.
Over the past year, Trouva has expanded into Europe, including Berlin and Paris, closed a $10m Series A funding round from venture capitalists, and integrated more than 10 new shipping partners to offer the most cost-effective delivery option in real time.
Ambitious appointment
Founded in 2013, Trouva sees itself as a champion of independent retail, enabling the best indie retailers to extend their reach and build on their success and is representative of the newest shifts in the industry.
Trouva recently brought on board former Uber executive Niall Wass as non-executive chair as it pursues ambitious expansion plans.
His arrival, after investing in several tech start-ups and with a background as former chief commercial officer of Betfair and chief executive of Wonga, is indicative of the ambition to scale the business and create a customer base internationally.
European vision
Trouva already sells products from independent retailers in Amsterdam, Madrid and Copenhagen, following its initial expansion to Berlin.
Chief executive and co-founder, Mandeep Singh has said: "At a time where the looming prospect of Brexit might be hanging over most UK-founded and based start-ups, it's business as usual for us, and that means rapid growth.
"The number of our boutiques that have achieved over £100,000 in sales directly through Trouva.com has almost quadrupled from 11 to 42 in just 12 months."
Trouva was named last month as "one of the five hottest scale-ups in the UK for an unprecedented third year running… based on its performance, growth and potential", in The Next Web's prestigious annual Tech5 List 2019.
Singh said then: "With European expansion taking us to the best creative neighbourhoods across the continent, Trouva is all about bringing together the world's most amazing independents run by master curators.
"As retail giants continue to suffer, Trouva's growth reflects the ongoing desire for independent shops to expand their presence online, transcending the barriers thrown up by geography through our platform."
As worries over the health and diversity of the high street continue, Trouva has shown the way in helping to ensure technologically enabled vibrancy to complement the irreplaceable contribution of bricks and mortar.
It is spearheading a route to the future which both safeguards and enhances the power of the shop, and the entrepreneur, which takes the best of both worlds and makes them add up to more than the sum of their parts.

Mark of excellence: Tapi
With more than 200 years of collective retailing experience within its management team, Tapi is not a typical emerging retailer.
The judges were unanimous, however, that it is a disruptor and making an impact.
Over the last year, the privately funded business grew its portfolio to 104 stores and piloted a partnership with Next at Home.
The judges commended a bricks-and-mortar success. The retailer has plans to grow further and make an impact in a hard-fought category.
OC&C Strategy Consultants

OC&C Strategy Consultants operates in key markets around the world to bring clear thinking to the most complex issues facing ambitious management.
Our Retail team work side by side with clients to find innovative and practical solutions that deliver lasting improvements in performance. We work with clients up and down the value chain and help them navigate the rapidly evolving landscape to unlock profitable growth.
Our client roster includes some of the world's most respected retailers, challenger brands, and private equity investors.